Suspense at its best
The characters play their part and the plot is deftly and sensitively handled, says Ervell E. Menezes of IFFI's Romanian entry 4 Months, 3 Weeks & 2 Days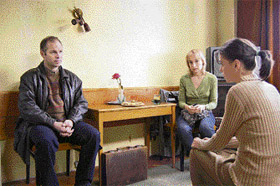 This years Golden Palm winner 4 Months, 3 Weeks & 2 Days (Romania) is a brilliant story of two women set against the backdrop of that country under Communist rule in the 1980s. Female bonding has become an important topic for cinema after women's lib and this story could not have been better crafted.
In fact it is the first part of Tales from the Golden Age, a subjective history of Communism in Romania told through urban legends. And director Cristian Mungieu infuses it with loads of suspense as he moves along two fronts, the emotional problem arising out of a pregnancy and the Big Brother watching role of the state.
Gabita (Laura Vasiliu) is the pregnant girl who virtually du mps her problem on Otilia (Annamaria Marinca) by telling her only half-truths. She wants an abortion and so she gets Otilia to contact an abortionist Bebe (Vlad Ivanov), a shady operator with rare demands, transcending even money. But the fickle Gabita keeps changing from day to day. First she says she is two months' pregnant, then changes it to three months because of her irregular periods, then four months
"The procedure is different for the third and fourth months." says Bebe who normally wants to deal with the victim directly and is unhappy that Otilia has interceded and booked a hotel room for two days. This causes problems in the Communist state guarding everyone's morality. If Bebe is as much an extortionist as an abortionist, he gets ample support from Gabita.
That he has to perform the abortion in that room is not easy, considering the "close watch' kept on the occupants. To make matters worse, Otilia is having problems with her boyfriend Adi (Alexandru Potoceanu). Then comes Bebe's role who even takes advantage of Otilia. Sexually abused, she is subjected to immense pressure. This suspense is brilliantly handled by Mungiu, almost like Hitchcock, with suspicion sprinkled like mustard at almost every turn. In contrast, Gabita is cool as she keeps her cards close to her chest. Will this bonding last?
Otilia's mental trauma could not have been better projected. Marinca is absolutely brilliant as she projects her angst and near devastation and she is ably supported by Laura Visiliu, who rightly underplays the role. Vlad Ivanov is also impressive as the ruthless abortionist, while Alexandru Potoceanu is merely academic. They all play their part but it is the suspense-ridden screenplay by Mungiu that is its greatest asset. Next comes his sensitive handling, embellished by some excellent photography. It is cinema at its best but it couldn't be appreciated by those who came for the opening of IFFI as viewers kept moving out at regular intervals. They must have been the wanabees who were there more to be seen than to see.