I want to sing in all languages: Ishmeet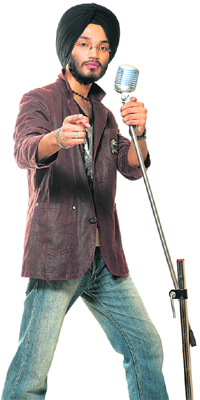 Expectedly, winner of Amul Star Voice of India contest Ishmeet Singh is on cloud nine but this Ludhiana lad feels his "journey has just started". Overnight this student of B.Com Part I has turned into a celebrity and he realises that his life may never be the same. In a telephonic chat with The Tribune from Mumbai, he happily not only acknowledged but also expressed gratitude to the immense support that people of Punjab lent him, leading to his victory. Excerpts:
How do you feel after winning?
It is definitely great. I am very happy to be here. But the journey has just begun. I know I am on the right path, but there is a long way to go.
There has been a lot of talk about your competitor Harshit being more talented than you and voting not being the correct way to choose the winner.
All those who reached the final stages definitely had the talent. So far as voting is concerned, it conveys public liking. For an artiste, his success depends on how much people like him. I do not think there is anything wrong in selecting a person through voting. And I am very grateful to all those who supported me in this contest and voted for me.
Do looks, exposure and competitive spirit matter in such contests?
Definitely. This show, for instance, was not just an audio show. It was visual, which necessitated that the performer appealed to public. I realised the importance looks could have and the moment I felt so, I made efforts to improve. And they paid off well.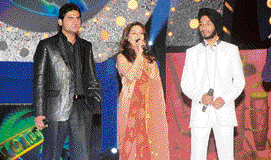 Glitzy affair: Madhuri with finalists Harshit and Ishmeet
As far as exposure is concerned, those in smaller cities are at a slight disadvantage. But if you have the spirit along with talent, you will win.
Which singers inspire you?
Mohammed Rafi. I also find Sonu Nigam and Shaan quite good.
You are not a formally trained singer.
I underwent a brief training period during which I got selected for the show. I have worked hard and am prepared to work harder. Besides Hindi songs, I want to sing in all languages, be it Punjabi, Marathi et al.