Second coming
The theme of reincarnation is oft repeated in Hindi films, says M.L. Dhawan, while Vikramdeep Johal looks at Hollywood films which have experimented with the subject in weird ways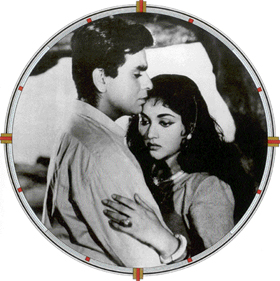 A still from Madhumati
Many a filmmaker has made films on the unusual theme of reincarnation or second birth. The story of transmigration of soul that had been ruthlessly annihilated in the previous birth reiterating the leitmotif of revenge in another birth is a subject that has interested filmmakers and audience alike. In Farah Khan's Om Shanti Om, Om Prakash Makhija (Shahrukh Khan) is a junior artist in the film industry of 1970s who secretly loves Shantipriya (Deepika Padukone). Om, who dreamt of becoming a superstar, is shocked to know that Shanti had secretly married Mukesh Mehra (Arjun Rampal), a film producer. In a twist of fate, both Om and Shanti die. Shanti dies in a fire set up by her husband while Om dies trying to save her.
Om is reborn as Om Kapoor and is a leading star in the film industry. He meets Sandy who resembles the yesteryear heroine Shantipriya. When Om remembers his previous life, he goes back to his mother of previous life (Kirron Kher) and old friend Pappu (Shreyas Talpade). With the help of Sandy, Pappu and his mother, Om settles scores with Mukesh Mehra who had killed Shantipriya by setting the film studio on fire.
Bimal Roy's Madhumati (1958) based on the screenplay by Ritwik Ghatak was the first film based on the theme of reincarnation. Taking shelter from a storm in an abandoned house, Devendra (Dilip Kumar) discovers a painting of the owner of the house Raja Ugranarayan (Pran). The painting reminds Devendra that he had painted that portrait in his previous life when he was called Anand and worked as a foreman on a plantation of Raja Ugranarayan. Devendra had been love with a local belle Madhumati (Vyjayanthimala). She had jumped to death trying to save herself from the advances of Ugranarayan. Then a trap is set to arrest Ugranarayan by means of another woman Madhavi who looked like the dead Madhumati. When Madhavi arrived late for the trap, the original Madhumati rises from her ashes and takes her revenge.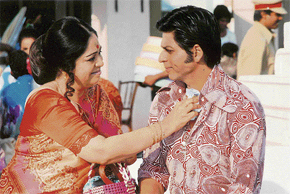 Shahrukh Khan is Kirron Kher's son in his first birth in Om Shanti Om
Prasad Production's Milan (1967) based on the theme of reincarnation began with the marriage of Gopinath (Sunil Dutt) and Radhadevi (Nutan). They cross the river Ganga by boat and reached the other bank to pay obeisance at the 'samadhis' looked after by Gauri (Jamuna). Here he is reminded of his previous life when he was a boatman Gopi ferrying boat across this river and was loved by Gauri. Radha (Nutan) was the daughter of an aristocrat. She met Gopi everyday while crossing the river and a bond developed between the two was intensified by their common interest in music. When fingers were raised on their relationship after Radha became a widow, Gopi and Radha escape on the boat and get drowned in the Ganga. While crossing the river, Gopinath and Radha meet Gauri and pay respect at the samadhis in memory of their love in their previous life.
In Ram Maheshwari's Neel Kamal (1968), the past and the present lives merge. At Chitrapur, there was a mausoleum Rang Mahal — Chitrasen's (Raj Kumar) monument to love — built long ago in celebration of his love for the princess Neel Kamal (Waheeda Rehman) Chitrasen was entombed alive by the king, father of Neel Kamal, for his audacity in asking for the hand of the princess he loved. Chitrasen's spirit continued to haunt the ruins of Rang Mahal singing Tujhko pukare mera pyar.
Meanwhile, Neel Kamal is reborn as Sita. After her marriage to Ram (Manoj Kumar), Sita displays strange behaviour like sleepwalking during the night for long duration making everyone suspicious. Once responding to the forlorn call Tujhko pukare mera pyar, Sita sleepwalks to Rang Mahal. There she is reprimanded by Chitrasen that she has forgotten him. He reminds her that she was his Neel Kamal in previous life and that her father had him murdered. When Sita offered to atone for the sins of Neel Kamal by sacrificing her life for the salvation of Chitrasen, the tomb crashes and a human skeleton in chains comes out of it. Chitrasen gets salvation and never visits Sita again.
In Subhash Ghai's Karz (1980), the day after his marriage Ravi Verma (Raj Kiran) is killed by his wife Kamini (Simi Garewal) for his money. Twenty years later Ravi is reborn as dancer and rock singer Monty (Rishi Kapoor). Monty is haunted by the images of a woman killing her husband and eventually he realises that he was Ravi Verma in his previous birth. He decides to settle scores with Kamini. Monty pretends love her and finally Kamini confesses that she had killed Ravi Verma.
Rakesh Roshan's Karan Arjun (1995) was also based on the theme of reincarnation. In Rajasthan in their first life Karan (Salman Khan) and Arjun (Shahrukh Khan) were the sons of Durga (Raakhee). They met a gruesome end at the hands of Durjan Singh (Amrish Puri) who also kills their father and grandfather and takes control of the family's property. Durga's sons are reborn as Ajay and Vijay. Ajay and Vijay are troubled by visitations of memory of their previous life. They finally take revenge from Durjan Singh. — MLD
Who says Hindi cinema has the copyright on reincarnation stories? Hollywood has done it as well, and that too in wacky ways.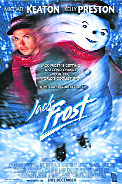 Michael Keaton was reborn as a snowman in Jack Frost
In the comic fantasy You Never Can Tell (1951), an Alsatian is fatally poisoned for the fortune it has inherited from a millionaire. Then comes the twist: The dog is reborn as a human private detective, who sets out in search of his own murderer. As if that's not bizarre enough, the sleuth has a blonde secretary who was a racehorse in her previous birth.
Oh! Heavenly Dog (1980) reversed the storyline — a private eye (Chevy Chase) is murdered for pursuing a sex scandal. He returns to earth as a canine to find out who did it. Not only that, he utilises the opportunity to get cosy with the pet's unsuspecting owner, an attractive reporter played by Jane Seymour.
Another movie in the "manimal" mould was Fluke (1995), which cast Matthew Modine as Tom, a self-centred businessman who dies in a mishap and returns as Fluke, a big brown dog. Feeling guilty about having ignored his wife and son all the time, he makes desperate efforts to be reunited with them.
Michael "Batman" Keaton was reborn as — hold your breath — a snowman in Jack Frost (1998). No longer obsessed with his career, he spends a wonderful time in his son's company and realises what he had missed as a human.
It was a "normal" transmigration in Chances Are (1989), where a woman's deceased husband comes back as a much younger man and falls for the girl who is, technically speaking, his own daughter.
In Goodbye Charlie (1964) and Switch (1991), a Casanova gets his comeuppance when he is reincarnated as a female (the Hindi remake was Mr Ya Miss).
Here Comes Mr Jordan (1941) was the story of a boxer who "mistakenly" dies much before his allocated lifespan and is sent to heaven. On returning to earth, he finds himself "bodyless" because his body has been cremated. After rejecting several unsuitable candidates, his soul finally chooses the body of a murdered banker.
This whimsical comedy won Oscars for original story (Harry Segall) and adapted screenplay (Sidney Buchman and Seton I. Miller). It was remade successfully by actor-director Warren Beatty as Heaven Can Wait (1978) and unsuccessfully by Chris and Paul Weitz as Down to Earth (2001). Incidentally, it also inspired the Rajendra Kumar-starrer Jhuk Gaya Aasman (1968), best known for the Rafi classic Kaun hai jo sapnon mein aaya`85
Now that Om Shanti Om has revived interest in punar-janam, Bollywood ought to show some imagination while crafting such stories. For weird ideas, of course, they have Hollywood to bank on. The million-dollar question is: Will any Hindi film star take the risk of being reincarnated as anything other than a human being? — VJ