Television
Sizzling show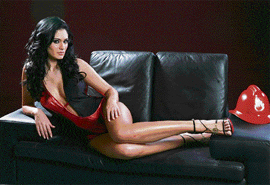 India's Hottest co-host Bruna… in search of oomph
Channel [V] has simply added to the global warming threat by launching its scorching new show [V] India's Hottest.
This is not a talent show. The judges won't insult you. A show minus all the fake drama of reality TV and yet as real as any, since the winner is decided by the viewers. All it takes is your looks and a real hot picture for you to be crowned the title of 'India's hottest' guy and girl.
Along with the attention and adulation, the winners of the show will be richer by Rs 5 lakh. `A0Adding to the soaring temperatures of the show is Channel [V]'s newest export from Brazil, VJ Bruna Abdallah hosting the show along with VJ Aditya.
The show sizzles your screen every Monday at 7 p.m. and the hottest pictures get featured on air with VJs Bruna and Aditya showcasing 12 pictures every day. Viewers can vote for their favourite pictures by logging onto the website or simply voting via sms. In the end there will be one girl and one guy crowned as 'India's hottest' and bag the cash prize and of course the licence to set the country on fire.
Soulful tracks
After a mesmeric victory at Indian Idol 3 on Sony, Prashant Tamang is all set to rock the nation once again with his soulful voice. He has launched his first album, Dhanyavad, with over 10,000 fans attending his launch concert in Gangtok. The launch saw Tamang sing a few songs from his new album to a huge crowd that grooved to his enchanting tunes. The title track Zindagi Pehle Kabhi had the audience roaring with applause. There are also popular tracks of his winning performance at the contest. The 22-year-old Tamang is a cop and part of the police band in the Kolkata Police. He is the first contestant of Indian-Nepalese origin and the Indian Police Force to compete in the show.
"This album is an amalgamation of emotions and hard work. I credit this to my fans who gave me tremendous support," says an emotional Tamang, all set to clock his first commercial hit. — NF