Bye, see you next week!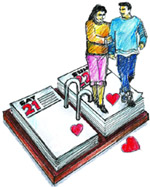 For several Gen-Y couples, marriage is all about loving their partner & own space
Purva Grover
She is the perfect daughter-in-law and he the perfect son-in-law. There is not a single wedding or a family dinner that the couple misses. Each year they go out for a holiday, also they party together on weekends. And, on rest of the days they live their own lives. Married, yet separate, they are happy to be bound, not tied, in a relation. They are the weekend couples (read - they meet each other only on weekends and other family occasions). And, mind you, the duo is content with the arrangement. After all, it suits them both.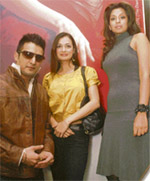 Triple Scoop
Star cast of Dus Kahaniyaan enthrals us with jewels
& more
Parbina Rashid
It's practically raining stars these days. If Kareena Kapoor and Yana Gupta took our breathe away other day at ICL function, today it was the turn of Dia Mirza, Mausumi Udeshi and our homegrown star Jimmy Shergill to give us darshan at a jewellery store. Now if you ask what is the connection between the ol' humble Gitanjali store at Sector 22 and the stars, our answer will be Dus Kahaniyaan.
— Photo by Vinay Malik

First Day First Show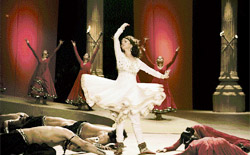 Fida over her nach
WATCHABLE
Aaja Nachle
Rajiv Kaplish
Maqbool F. Husain is fida over her husn. So much so that he booked an auditorium in Dubai for a special show of her movie —Aaja Nachle. Activists of a party held a procession in a city heralding the release of her new film. Mayawati went ballistic at a song in the musical and pulled it out of theatres in Uttar Pradesh. She later lifted the ban following an assurance by the makers that the offending line would be deleted. Punjab too has banned its screening. Who else but Madhuri can evoke such strong emotions?
Essence of the dunes
Experience flavours of Rajasthan in these works
S. D Sharma

The diverse strains of creativity, exhibited at the Government Museum-10, in the paintings of 17 accomplished maestros from Rajasthan, while stamping their versatility in the realm, exude their mitti ki khushboo in ample measure and fascinating colours. Every piece in the bonanza, a collection of over 50 art pieces in variegated mediums that has been brought to the city by collaborative efforts of Lalit Kala Akademies of Rajasthan and Delhi, British Council and Association of British Scholars of Jaipur and Chandigarh chapter, vies for viewers recognition with spontaneous appeal. — Photo by Vinay Malik
Transfusion unsafe

Damaging Ecstasy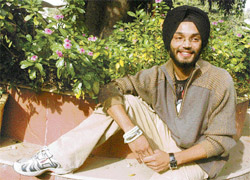 Here's the star
Aneesha Sareen
The press invite required us to reach at the venue — Punjab Kala Bhawan at 1 p.m. on Saturday. The occasion was felicitation of Ishmeet Singh, the winner of Star Voice of India, and we were bang on time and so was Hira Singh Ghabra, Punjab's cultural affairs minister, who was there to honour him. But, our wait for the 'star' had just begun. His cavalcade. arrived an hour late. Mobbed by fans (literally), patiently posing for our shutterbugs, signing autographs for the children and singing.Jab se tere naina, for us,was enough to strenghten our belief that it was not just Ishmeet and his family who was praying hard for his win but the entire North Zone. — Photo by Vinay Malik
Balle balle with the band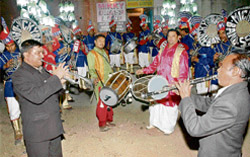 The trademark band baja & ghodi lend the traditional touch to new-age weddings
Aman Minhas
We, as a nation, love to sing, dance and eat. And, what better occasion than weddings? Celebrated with grandeur, our economy too depends on these. And, more so thanks to the family and friends of the bridegroom who want to announce the bride's arrival with all the band baaja. And, well when everything right from the dresses to jewellery to decorations to food is gigantic and majestic, then the bandwala too has to be in the same league.
Matka Chowk
No Smoking Gun!
Sreedhara Bhasin
Childhood robbed?

Are we putting too much pressure on kids blissfully happy watching Noddy, growing up on Tiger biscuits, hoping to be one, & slurping on choco milk?
Aman Minhas
It's admission time in schools. Looking at the elaborate procedure of various kindergartens, who says competition begins after class XII? Most reputed schools interview both the child and parents. Of course, it's called a "mild interaction" between the parents and management after the Supreme Court banned interviews. — Tribune photo