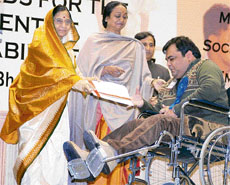 President Pratibha Devi Singh gives national award for the 'Empowerment of persons with disabilities 2007 for self employment' at Vigyan Bhawan in New Delhi on Monday. — Tribune photo by Mukesh Aggarwal
Medicos resort to 'Gandhigiri'
Mumbai, December 3
Opposing the Centre's move to increase the duration of the MBBS course to six-and-a-half years, medical students today intensified their stir and resorted to 'Gandhigiri' way of protest.
Congress studying action against Bhajan, son
New Delhi, December 3
The Congress has taken a serious view of Haryana veteran leader Bhajan Lal and son Kuldeep Bishnoi's open revolt against the party but it is in no hurry to proceed against the father-son duo.
JD (S) suffers first setback
Ex-minister G.T. Devegowda joins BJP
Bangalore, December 3
The Gowda family today saw its first man out of the Janata Dal (Secular) with a namesake and fellow Vokkaliga leader and minister G.T. Devegowda joining the BJP even as a major dissident group led by M.P. Prakash held a meeting with state Bahujan Samaj Party (BSP) president B. Gopal.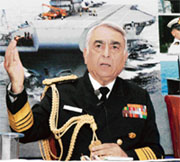 Admiral Gorshkov Deal
Naval chief rules out price renegotiation
New Delhi, December 3
The first opposition to the reworking of the Admiral Gorshkov deal with Russia has come from the very force, which has been waiting to get the delivery of the much-needed aircraft carrier.

Chief of Naval Staff Admiral Sureesh Mehta addresses the annual press conference in New Delhi on Monday. — Tribune photo by Manas Ranjan Bhui

RS to debate N-deal today
New Delhi, December 3
The Rajya Sabha will tomorrow discuss the Indo-US nuclear deal under a rule that does not entail voting.
India drifting away from Iran under US pressure: Yechury
New Delhi, December 3
The CPI(M) believes that there has been a shift in the country's foreign policy vis-a-vis Iran in the wake of the Indo-US nuclear deal.
Back Malaysian Tamils: Rights group
Chennai, December 3
The Hindu Rights Action Force (Hindraf) which is spearheading the movement of ethnic Indians in Malaysia wants India to openly assert its support for their struggle for basic rights and non-discriminatory treatment at the hands of the Malaysian government.
Don't watch ICL, NCP cadres told
Dehra Dun, December 3
With the Nationalist Congress Party (NCP) supremo and union minister Sharad Pawar at the helm of the BCCI, how can a state affiliate of the party remain behind in trashing the Indian Cricket League (ICL) that got under way at Panchkula in neighbouring state of Haryana?
Mamata visits Nandigram
Kolkata, December 3
Trinamool Congress chief Mamata Banerjee visited Nandigram today to take stock of the situation along with Congress general secretary Jayanta Bhattacharyya.
Journalists demand interim relief
New Delhi, December 3
Journalists and non-journalists today marched towards Parliament demanding announcement of interim relief for them and threatened to launch agitation if it was not met.
Street rally for disabled children
Uluberia (Howrah), December 3
Writer Dominique Lapierre and his wife today led a street rally here of physically handicapped children to create awareness for the underprivileged to mark 'World Disabled Day'.
Govt wants fair deal for Assam tribals: Patil
New Delhi, December 3
Despite an Opposition walkout in the Lok Sabha today, the government made it clear that that it wanted to give a fair deal to the tribal communities in Assam despite successive state governments making contradictory recommendations.
Adivasi blockade hits traffic
Guwahati, December 3
The 12-hour highway blockade called by the All-Adivasi Students Association of Assam (AASAA) affected traffic movement along the highways in the state even as the police arrested over 500 Adivasi protesters for trying to block traffic movements in different parts of the state.
UK visa centres to remain closed from Dec 7 to 11
New Delhi, December 3
The UK visa application centres, operated by VFS Global across India, will remain closed from December 7 to 11 (both days inclusive), the British High Commission announced here today.
Nitish wins kudos from Farooq Abdullah
Patna, December 3
Soon after the ruling NDA in Bihar completed two years in office on November 24, Chief Minister Nitish Kumar received kudos from the former Jammu and Kashmir Chief Minister and National Conference president Farooq Abdullah.
CPP meeting on Dec 6
New Delhi, December 3
Congress president Sonia Gandhi is expected to dwell on the challenges ahead in the new year for the party during her address to the Congress parliamentary party (CPP) meeting to be held here on December 6.
Rahul comes in support of shoemakers
Lucknow, December 3
AICC general secretary Rahul Gandhi today came out in support of three lakh shoemakers of Agra mainly belonging to the Dalit community.
Quick-fix alternative to reduce traffic jams
Pre-fabricated underpasses to be installed
Bangalore, December 3
Bangalore's Mahanagar Palike has come up with a simple solution to the frequent traffic jams in the city. Construct pre-fabricated modular underpasses to ensure signal-free passage of vehicles of city roads.



Videos
Bhopal tragedy victims remembered.
(56k)
Depressing Internet.
(56k)
Run for peace.
(56k)
Tribute to Mads magic.
(56k)
Saif woos Kat, Bips.
(56k)