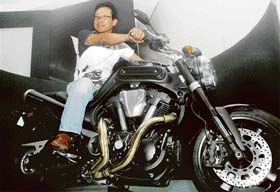 CEO and managing director of Japan's Yamaha Motor company, Tomotaka Ishikawa poses on the Yamaha R1 motorcycle during its launch in New Delhi on Tuesday. Yamaha rolled out two of its flagship models, the R1 and the MT01 super sports onto the Indian market at the cost of Rs 1,050,000 ($26,923). — AFP
Montek favours hike in petrol, diesel prices
Says economy to grow at 8.5 pc
New Delhi, December 4
With the crude price nearing $100 a barrel in the international market, deputy chairperson of Planning Commission Montek Singh Ahluwalia favoured passing on the burden to the consumers saying sustained high petroleum prices impose a hidden cost on the economy.
IT, BPO sectors hit by Rupee appreciation
Hyderabad, December 4
India may not remain an attractive destination for IT outsourcing in future in view of the rupee appreciation against the US dollar. The Indian currency's continued surge has raised fears about the long-term prospects of the export-oriented information technology and business process outsourcing sectors.
Lakshmi Mittal richest in South Africa too
London, December 4
India-born steel tycoon Lakshmi Niwas Mittal, recently named as the richest Indian in the world with a fortune of $51 billion, has also been rated as the wealthiest person in South Africa.
DLF, Prudential Finance in pact
New Delhi, December 4
The US-based Prudential Financial Inc and the DLF Group today announced formation of a joint venture for asset management in India. This agreement would allow PFI, one of the financial services leader with approximately $637 billion of assets under management, to expand its international investments business and marks its official entry into the Indian mutual fund market.


M&M launches Scorpio V-series
Chandigarh, December 4
Mahindra & Mahindra today launched the Scorpio V-series, a new line-up of the SUV packed with practical features. The new VLX edition is equipped with the powerful m Hawk engine and is priced at Rs 9.66 lakhs, ex-showroom Chandigarh.

Vivek Nayer, vice-president (marketing & sales), automotive sector, M&M, at the launch of the Scorpio VLX in Chandigarh. — A Tribune photograph
SIDBI stops refinance to Haryana, Punjab, HP
Chandigarh, December 4
The Small Industries Development Bank of India (Sidbi) has stopped providing refinance facility to three financial corporations of Punjab, Haryana and Himachal Pradesh due to their negative capital adequacy ratio.
Dabur aims at Rs 1,000 cr turnover
New Delhi, December 4
Dabur India today said it is targeting a turnover of Rs 1,000 crore over the next three years from its beauty and lifestyle Health and Beauty (H&B) Stores. "We are aiming a turnover at about Rs 1,000 crore by 2010 and set up around 160 H&B stores," Dabur India CEO Peter Baker said.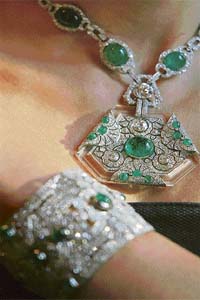 An art deco emerald, diamond and rock crystal necklace, formerly belonging to Anita Delgado, fifth wife of Maharaja Jagatjit Singh of Kapurthala, is displayed at Christie's auction house in central London on Monday. The necklace is one of the eight jewel pieces, which belonged to Anita Delgado, are expected to fetch £ 200,000, (approx 281,366 euros/$412,809) at the 'Magnificent Jewels' auction at Christie's on December 12 in London. — AFP
Nod to 16 FDI proposals
New Delhi, December 4
The government has approved 16 foreign direct investment proposals, including that of Russia telecom firm Sistema and Italian fashion retailer Dolce & Gobbana, envisaging a total inflow of Rs 647.48 crore.
General Motors ties up with IIT
Bangalore, December 4
General Motors today announced setting up a new collaborative research lab in partnership with the Indian Institute of Technology, Kharagpur, to carry out research in areas of electronics, controls and software.
Airtel awarded 'best brand'
Chandigarh, December 4
Airtel has been recognised as the best brand and best mobile operator at the 'World Communications Awards- 2007'. The awards were announced on November 28, 2007, in London.
OCM launches summer'08 collection
Amritsar, December 4
OCM India Ltd., a leading Indian manufacturing company of worsted wool fabrics, launched its Summer'08 collection on the occasion of Sales Conference in Amritsar here today.
SBI gives loans worth Rs 1.15 cr
Chamba, December 4
The State Bank of India has advanced loans to the tune of Rs 1.15 crore to 27 beneficiaries belonging self-help groups of Chamba district at a 'loan disbursement mela' organised by the bank here today.