Experience over degree
An MBA degree is not enough to get you a dream job
A management qualification from a B-School may not guarantee a lucrative job as companies now want their potential employees to have sweated it out in the corporate corridors before going for the MBA degree. "A management graduate with no work experience may be poised to go nowhere with over 80 per cent of potential employers of MBAs looking for candidates with at least a year's prior work experience," according to a new survey of over 500 employers in more than 30 countries.

Careercature
Sandeep Joshi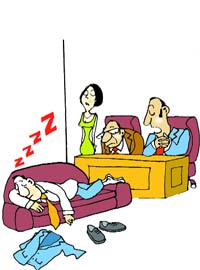 This is not what we meant when we said:, "We will fulfill your dreams."

Class of 2008
Right time for B-school
Mary Ellen Slayter
AN MBA from a top school is often seen as a guaranteed investment, boosting your earnings as well as your career trajectory. But how do you know when it's the right time to pursue a master's degree in business? "You have to be ready," says Sam Kang, associate director for recruiting at the University of Maryland's Robert H. Smith School of Business. "You have to ask yourself three questions: Why an MBA, why now and why a particular school?"

A fit choice
Usha Albuquerque
Sachin Tendulkar has one, so does Saurav Ganguly. Suneil Shetty also has one. We're not talking cricket or Bollywood. It's physiotherapists that are among the most wanted people today, particularly for those who want to stay fit and in good health. Physiotherapy, as a profession, may briefly be defined as a science that seeks to alleviate movement dysfunction, and to promote optimal health and functions of the human body.

CREW CRUNCH
Manpower shortfall could ground aviation industry
THE Indian aviation industry, pulsating with growth, is facing a talent crunch which could potentially impede the prospects of the sector, industry officials feel. "The way the industry has grown, getting the right people on board, especially those in operations, is a challenge that airline companies have to face," Surajit Banerjee, Head of HR, Spice Jet, said during a recent panel discussion on "Is there a pilot on board" in Bangalore.

Bits & bytes
India needs more nuke professionals
Despite India enjoying one of the largest human resource pool of experts in nuclear science and technologies, it needs more professionals in the sector in immediate future due to expanding nuclear power programme, Atomic Energy Commission Chairman Anil Kakodkar said recently.

Career Hotline
Lure of cure
Pervin Malhotra
Q I cleared the Class XII Board Exam with 94 per cent marks. I want to be a doctor. Is there any scholarship or fellowship scheme, which can help me to study in a foreign university? Also, tell me about the institute in India where I can fdo research in the medical field.
— Harsha Bagla
Count your choices

Shop for a job

Regulated coaching

Cheque list

Testing time