Bionic limbs: A big hope
Dr S.S. Verma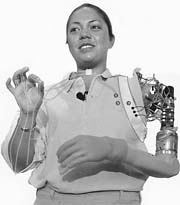 There is no doubt that science and technology if put to right use of mankind, can create miracles for its benefits. In everyday life man has a close association with machines for his survival but sometimes with the mishandling of these machines (i.e., industrial accidents), wars or some other natural mis-happenings, people can lose limbs.
Such injuries require enormous lifestyle adjustments and rehabilitation. A person with such a disability always feel distracted from his life when he see the physically vibrating world all around him and this also put a great pressure on his care-givers.
Every such person has a desire to have his natural limbs back, but that is not going to happen. A conventional prosthetic limb which is possible at present is limited in a number of ways in the types of movements. Moreover, it can do only one of those movements at any particular moment. But with the development of biosciences and engineering (called neuro-engineering, the new technology which connects people to machines), days are not far away when such people will be able to have bionic (bionic — a mechanical device directed by brain) limbs which will not be real but nearly real.
Jesse Sullivan from Tennessee (US) is the first amputee with a thought-controlled artificial arm. Experts say that a natural arm is capable of 22 discrete movements and Sullivan's bionic limb is capable of four right now which allows him to rotate his upper arm, bend his elbow, rotate his wrist, and open and close his hand — in some instances simultaneously, though researchers are working to make them better. The motions are coordinated and smooth because a bionic or myoelectric device is controlled by the brain. He thinks "Close hand," and electrical signals sent through surgically re-routed nerves make it happen. Until now, it has been nearly impossible to recreate the subtle and complex motion of a human arm.
Improving the function of artificial arms remains a considerable challenge, especially for high-level amputations where the disability is the greatest. Externally powered hooks, hands, wrists and elbows are available, but existing control methods are inadequate. That prompted researchers to make improvements to refine artificial limbs that connect body and mind.
Bionic arm is not as smooth as a normal arm but it works much smoother than a normal prosthesis arm. There is no perceivable delay in the motions of bionic arm which is flesh-coloured and plastic-like arm.
The technology that Jesse uses today was developed by Todd Kuiken, MD, PhD, Rehabilitation Institute of Chicago (RIC)'s Director of Amputee Programs and Associate Dean for the Northwestern Feinberg School of Medicine and his team at RIC's Neural Engineering Center for Artificial Limbs (NECAL). Researchers have learned that although the limb is lost with an amputation, the control signals to that limb remain accessible in the residual peripheral nerves.
Grafting the residual nerves of an upper-limb amputee to spare muscles produces additional control signals, allowing for simultaneous operation of multiple functions in an externally powered prosthesis with a more natural feel than is possible with conventional prostheses.
The writer is from the Department of Physics, S.L.I.E.T., Longowal