Presenting, the soft side of turbanators
Amritsar, December 7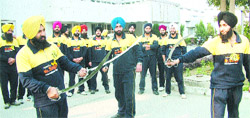 Macho and handsome - you would imagine a Mr Singh to be just that, but now, perhaps, it is time for you to update your vocabulary. The 30 contestants for the second Mr Singh International contest would make you use a different set of words - soft spoken, articulate and presentable.
Besides gatka classes, the Mr Sikh International participants are also busy taking Gurmat lessons.
Cold Calling
Why you have to take a chill pill here?
Amritsar, December 7
Amritsar leaves many surprised when it surpasses Shimla in the minimum temperature column in the winters.
China pulls the strings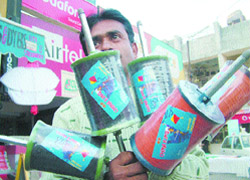 Strings from China have taken the kite market by storm. — A Tribune photograph
China controls Indian flight
Amritsar, December 7
Maneuvering a kite through the congested neighbourhood rooftops is an art perfected over years. And to tangle the kite string with that of another experienced kite flier at the risk of losing it all is no ordinary child's play.
'Sat Sri Akal' likely to hit theatres on Baisakhi
Amritsar, December 7
Dedicated to the 300th anniversary of Gurta Gaddi Diwas of Guru Granth Sahib, "Sat Sri Akal", a socio-religious Punjabi movie, would have a "Sabat Surat Sikh" as a hero and is likely to be released on Baisakhi next year.
SAGA 2007
Gurseema bags 'She Khalsa' title
Amritsar, December 7
A local girl, Gurseema, bagged the "She Khalsa" title, while California resident Sarabjit Singh bagged the "He Khalsa" title in the Spiritual and General Ability (SAGA) - 2007 contest organized by the Kes Sambhal Prachar Sanstha (KSPS) here to inculcate social values among the youth of the Sikh community.
Burning passion
Eulogising and singing Punjabi poetic creations of his own and others is the obsession of California-based Pashaura Singh Dhillon, a passionate poet and an architect by profession.In city for an interaction at Randhawa Auditorium, the poet delighted the literary elite with his mellifluous rendition of verses from his latest book Deeva Baleh Samundron Paar and other prominent poets. Sharing his love for literature and music with Lifestyle Tribune, Pashaura Singh opined that the vision, impulse, voice and command over language are the essential merits of a poet.
'BJP-SAD govt has failed miserably'
Tarn Taran, December 7
The district Congress committee president Malkiat Singh Dakha on Friday said the BJP-SAD combine has failed on all fronts. He was addressing party workers at a district-level meeting which was held here in connection with a Congress conference being organised on December 22. The chief guest of the event would be PPCC chief Rajinder Kaur Bhattal.
Spring Dales declared best debating team
Amritsar, December 7
Pranav Malhotra and Tarni Khurana, class XI students of Spring Dale Senior School, won the "Best Debating Team" trophy at 10th International Convention on "Student Quality Control Circles." As many as 140 schools from over 20 countries took part in the competition held at Lucknow.
NRMU wins railway elections
Amritsar, December 7
The Northern Railway Men's Union (NRMU) created history by securing about 50 per cent votes and winning in 15 out of the 16 zones in the country in the recently held elections for the recognition of a union under the banner of "one industry, one union".
SC decision on teachers hailed
Amritsar, December 7
The Punjab Heritage and Education Foundation and Amritsar Vikas Manch (AVM) welcomed the decision of the supreme court that teachers cannot be allotted non-teaching work.