Soaring high
Riding high on NRI and non-Punjabi investors' interest, the property prices in Ludhiana, the industrial hub of Punjab, have shown a steady growth over the past six months, says Shveta Pathak

Is the real estate boom bubble going to burst soon? This is the million dollar question for almost every investor and the past six months have in fact given the jitters to many in the state as there have been reports of a slowdown in the sector. But if high value property deals are any indication, the slump in the real estate sector in the past six months seems to be nothing but an illusion in the case of Ludhiana.

New project: A residential complex on Rani Jhansi Road. — Photo by Sayeed Ahmed

Commercial Rents
The ascent continues
Office rentals in prime commercial locations in leading Indian cities and other Asian markets continued to rise in the third quarter this year as local businesses expand, a global consulting firm said today. "Overall demand for office space in Asia's major commercial centres remained robust, with demand from expanding local businesses and non-finance related occupiers increasingly significant in many Asian markets," CBRE said.
It's time to rationalise Stamp Duty system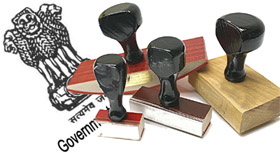 Real estate in India is the most unorganised and graft-ridden sector which, if regulated properly, can act as a major growth vehicle. The registration system needs most of the reforms to check evasion and, in turn, black money and inflation, says R.P Malhotra
Real estate in India is the most unorganised and graft-ridden sector. If regulated properly it can act as a major growth vehicle, can generate ample employment opportunities through 250-odd industries ancillary to the construction sector and thus can bring overall prosperity to the rural masses.
GREEN HOUSE
Think before you plant
Medicinal or ornamental, big or small, there are a number of points to be noted while planting trees along roads and avenues, advises Dr Satish Narula

TAX tips
Relief in LTCG tax under Benami Transactions Act
Q. Recently, me and my wife purchased a flat in Chandigarh for which the complete amount was contributed by me. Does Section 3 of the Benami Transactions (Prohibition), Act 1988 give me relief regarding the payment of long-term capital gains tax qua my wife as under the above provision wife and unmarried daughter are excluded from the applicability of the above Section? Is the above proviso to Section 3 of the Act relevant for calculating the LTCG Tax?
Urban land Act repeal not to soften prices
Mumbai: The repeal of Urban Land Ceiling Act (ULCA) by the Maharashtra government would make large parcels of land available for development, but property prices are not likely to come down in the near future, feel realtors. Prices may at best stabilise in the near-term and even if a downward movement takes place, it would be only after two-three years when some of the land released due to ULCA's repeal gets developed, they said.
Realty through lens
Parsvnath bags 160 cr project
New Delhi: Parsvnath Developers Ltd has won the bid to develop a commercial project on 18,632 square metre of land worth Rs 160 crore, including land cost in Greater Noida. "The project will be a landmark development in the area and will house renowned national and international brands, serving as one-stop shop catering to the needs of all segments of society," Parsvnath Developers Ltd chairman Pradeep Jain said.
All-Brahmin real estate venture in Hyderabad
In a throw-back to the old days, plans are on to recreate the ambience of "Agraharam", an exclusive Brahmin colony, near Hyderabad. The modern-day "Agraharam" comes with a complete package-an integrated township comprising supermarkets, hospital, engineering and medical college, a temple and community halls.