It's wedding time folks...
Punjabi ishtyle!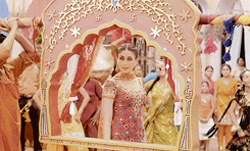 Murga-shurga, dance-shans, daaru-vaaru, Punjabi weddings are simply the best & unbeatable. In case you haven't attended one this season, just do it!
Purva Grover
IT was my chachi's cousin's son's best friends' wedding and I was invited. Now, before you wonder why I was on the invitee list, let me tell you that we are Punjabis and when we attend weddings, we believe in arriving with the whole jing-bang. Also, this rather long list of friends, family, friends' friend, cousins, padosis ... is just a small, yet lovely part of Punju weddings.
Take it easy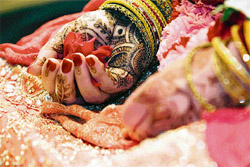 Are trial sessions, salon appointments, meeting relatives and more leaving you nervous by the day? A few handy tips
Aman Minhas
YOUR mommie daddy, masi, bhua, neighbour, cousins, hairdresser all are jumping with joy. Why? For, you are formally betrothed or shall we say hooked, booked and ready to be cooked. And even though the feeling may have not really sunk in, the whole world is already preparing for your D-day.
Time is Money
Marriage season is the busiest time for the friendly-neighbourhood punditji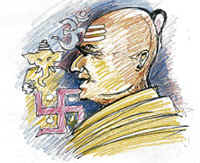 Aman Minhas
THE wedding season is here and before you jump to any conclusion, let us assure that this story is not a trend watch that tells what to pick from where. Instead, this time we spot a man with some religious books in his hand hurrying towards his next destination — talking on the cellphone, giving lucky ones appointments for next week, refusing others altogether.
Illustration: Kuldip Dhiman
Telly Tales
I do. & do.. & do...


Getting married and remarried to the wrong person(s) for the wrong reason(s) is synonymous with our leading ladies
Aman Minhas
EVERY time I try to catch up with the soaps that rule the small screen, I end up being confused. For the regulars, it may not be all that difficult to understand the need of the leading ladies to get married several times. But for people like me, it leaves us baffled.
Mix of love
Aman Minhas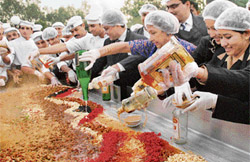 AS an old legend goes, nuts in the classic fruit cake for Christmas should be marinated in liquor for around a month or 20 days. Each family member should mix the nuts in rum and make a wish, for it brings good luck. And more the people, better the year! The tradition is being kept alive by the Taj, Chandigarh. "We want to revive the age old tradition of Christmas by making the cake," said the general manager Anil Malhotra.
Photo by Pradip Tiwari
Not just medicines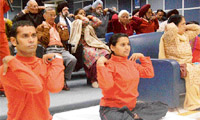 Wouldn't it be great that your hospital not just did check ups but even provided you with a complete health care programme. Fortis Hospital, Mohali has done just that by announcing a total holistic health care programme catering to different age groups. Medical Director Dr Ashok Chordiya said, "It is based on the idea that one should take care of the whole body and mind rather than just treating a part of the body that is ill."
Photo by Vicky Gharu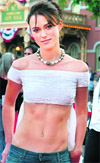 I'm no role model
Keira Knightley is grabbing the most sumptuous roles in Hollywood but still manages to keep a firm head on her shoulders. "I think fame is a very strange thing. You learn to find ways around it, as in any job. You have to have a route to self-preservation,"said the 22-year-old. She also revealed that she never liked being a teenager. "I never felt comfortable being in a group of giggly girls ... So I suppose I never really wanted to explore it, whereas I did want to be a woman," she said. Although young, Knightley's right kind of maturity has only reaped her benefits. —ANI


BIG PICTURE



FUN IN THE SUN: Who would want to stay inside cold classrooms with boring
textbooks for company? Students cosy up on the Panjab University campus
Wanted: Love, attention
The root cause of your upset tummy or the nagging headache may not be lie in your stomach or your head, but your heart. Read on...
Purva Grover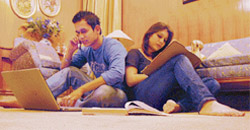 DOES the pressure of deadlines, targets and meetings leave you with no time for your partner? If yes, then wait and watch, it is likely that your appointment diary will soon see the two of you spending a lot more time together. For, while you blame a busy schedule for lack of time, the brain in your stomach is consciously at work to get you two together, only the venue may be a clinic.
— Tribune photo

High on fat & pleasure
Chocolates, ice-creams, burgers and pizzas may be high in calories, but are still popular, says Saurabh Malik
YOU may find it hard to digest, but high-calorie food is still hot amidst teenyboppers savouring life in fast-food joints, café bars and restaurants across the city.
Photo by Manoj Mahajan
Exhi Watch
Whiff of Rajasthan
Everything about their state is rich and colourful. Craftsmen and artisans from Rajasthan are back in town at Lajpat Bhawan-15 with Jaipuri prints, hand block suits, bedsheets, fabric and jewellery to choose from.