Story of a Genius
Aradhika Sharma
A Very Strange Man
by Ismat Chughtai. Translated by Tahira Naqvi. Women Unlimited. Pages 231. Rs 250.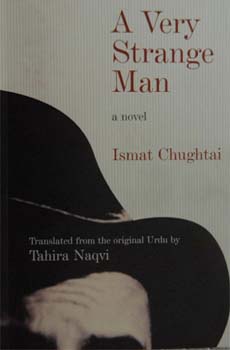 IT has to be a dream come true for a reviewer to get an Ismat Chughtai book to review, and if it is a Bollywood-based novel and the reader a Bollywood buff, well, then the anticipation as well as expectation is high.
Chughtai's A Very Strange Man (Ajeeb Aadmi) has been translated by Tahira Naqvi, a US-based academic, writer and translator, and a known admirer of Chughtai's work.
Although her most debated work still remains the short story Lihaaf, written in the 1940s, a tale that took a candid look at alternate sexuality, Chughtai still continues to fascinate readers, translators and critics, who find novelty in her works. Even after many years of her demise, Chughtai continues to inspire readers to take a fresh look at her writings.
A Very Strange Man is based on the life and loves of the legendary Guru Dutt. One may be reminded here that Chughtai was very much a member of the film fraternity. She was married to Shahid Latif who was a director. Latif and Chughtai worked together while he was alive.
Chughtai wrote scripts for 12 films, among which were Ziddi, Sone ki Chriya (based on the life of Nargis) and Garam Hawa. Little wonder that she had such insights into the workings of filmdom and the stresses and pressures that the stars and owners of production houses and those attached to them—their families, their production teams, the aspiring starlets and studs—may have to undergo. The highs and lows of making films, the disappointments of the film(s) not doing well, the shameless using of the rising star and the unashamed dumping of the ones that seems to be losing their glory, is all frankly portrayed in this book.
Says the translator Naqvi about Chughtai, "Ismat never minced words. Her writing is sardonic, acerbic, frank, bold and yes, even irreverent if the occasion merits it. She is merciless in her depiction of corruption, deceit, injustice and hypocrisy. Yet, her empathy for her characters is always evident, as is her pain for their suffering."
Chughtai is true to form in this book. The characters are easily recognisable and she has peppered the book with references of real Bollywood legends like Meena Kumari, Lata Mangeshkar, Mohammad Rafi, who actually play a role in taking the plot forward so there is really no doubt in anyone's mind about who is being referred to here. Still, she does not name Guru Dutt (the protagonist Dharam Dev), his wife, the legendary singer Geeta Dutt (Mangala), and of course, Waheeda Rehman (Zarine). Her vision of the three characters is perspicaciously clear yet so sympathetic is she to their failings and the tortures that they suffer because of their own constitutions, that the reader actually feels equally for all of them. The reason that she chooses not to name the actors is because (as she had said in an interview), that she had been sued by someone she had put in one of her novels. Thereafter, she went on to describe her "novel about life in films", probably about Ajeeb Adami.
In A Very Strange Man, Chughtai describes the life of the angst-ridden genius of Guru Dutt. Yet it is actually about the film industry, where every winner is feted, the loser, left to fend for himself and power machinations are equally at play with creativity and real talent. To quote from the introduction, "The novel is eventually one great writer's attempt to cross examine and analyse the system of which she and others like her were such an integral part."
The novel is actually a readymade screenplay about the topsy-turvy world of the Bombay film industry. The rare insights are provided by the writer who lived and breathed films. In fact, it's only a matter of time when a filmmaker will pick it up. The reviewer for one is waiting eagerly for the time when the book is translated into a celluloid version.