An alluring world
Priyanka Singh
Reflections: The Bollywood Connection
by Dorothea Nurnberg. Promilla. Pages 111. Rs 250.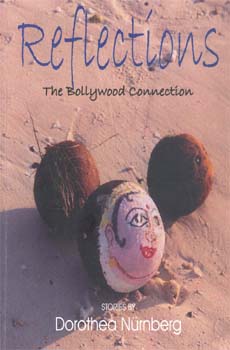 AN Austrian writer drawing on Bollywood in a manner that it becomes central to her stories is not surprising, what with the Indian film industry showing expansive growth in Europe. What startles is the ease with which she infuses the same illusionary quality in her stories.
Women protagonists appear to drift from a dream sequence-like moment to stark consciousness. The "identity forming effect" of the film industry within the Indian diaspora also finds expression in the book.
Elsbeth is a college lecturer in Vienna who falls in love with Rahul, a small-time actor with dreams of stardom. She comes to Mumbai and what sets in is her disillusionment with the relationship. She takes off to Vrindaban and amid spiritual propensity, she senses incompleteness, but Rahul is already at the Krishna temple on the banks of the Yamuna to win back her love.
The next story talks of a Mauritian botanist lost after the death of her Hindu husband whom she had married against the wishes of her father.
She is a Hindi film fan, having learnt the language only so she could sing Hrithik Roshan's songs. She's seen Mujhse Dosti Karoge nine times and just as the breeze from Krishna's altar unites the lovers in the film, it is to work for her and Jean Claude.
An explosion, however, smashes her view of the "ideal world of Bollywood films and their idolatrously adored stars". The dream of beauty and love, and the perfect idyll no longer offers her an escape from reality.
As Claude tells her earlier on: "The idyll brings money, fuels patriotic emotions, and for a few hours, distracts the poor masses of India from daily misery."
The last story is about a Bollywood-basher and a top Indian author who believes Bollywood to be a "cheap, worthless, commercial, light years apart from any type of art or literature". And so hates that his novel should be adapted into a film.
The author also tries to build a bridge between the cultures of the East and West, gathering the best of both and enriching them alike.
"A colourful, alluring world to revive the submerged emotions and desires of the young woman: fascinating men, beautiful women, romantic love, great emotions, mellifluous melodies and lavish dancing scenes" is how the Mauritian woman describes Bollywood. For the reason that Indian readers have been overly fed on Bollywood, the book has nothing new to offer.