It was a plot straight out of one of Chiranjeevi's hit movies when his younger daughter Srija eloped with Shirish Bhardwaj. Ramesh Kandula in Hyderabad looks at the life of the Telugu superstar who wields tremendous clout and is seen by his community as leading a 'third political force' in Andhra Pradesh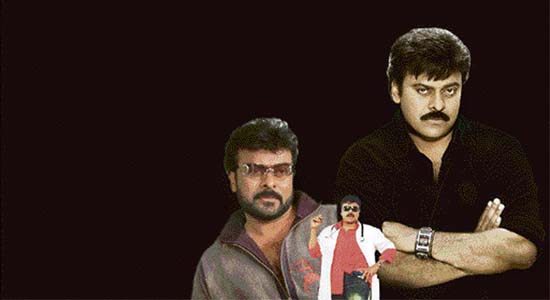 ON his way to stardom, Telugu superstar Chiranjeevi had donned lover-boy roles in several blockbusters that celebrated the triumph of teenage love over the tyranny of elders. Never was he prepared for a role reversal in real life. The ageing matinee idol found himself on the other side of the fence when his young daughter Srija eloped with her boyfriend and married him in a secret Arya Samaj ceremony.
Happy end, not yet
FOR the defiant couple, the elopement and secret marriage followed the pattern of a potboiler script, but the homecoming did not. When Srija and Sirish Bharadwaj returned to Hyderabad on November 11, after a three-week long stay in Delhi under police protection, there were no scenes of emotional re-union with the family.
Tallest in Tollywood
Before Bollywood industry had grown in size, especially during the last one decade, Tollywood, as Telugu film industry is known, used to produce the biggest blockbusters in the country. In early 90s, The Week magazine carried a cover story on Chiranjeevi titled "Bigger than Bachchan", indicating the financial muscle of his films.
A colourful world Down Under
Tanushree Podder takes you to a wonderland called Jenolan caves, formed 340 million years ago, near Sydney
THE Blue Mountains, just two and a half hours' drive away from Sydney, is a World Heritage Area. Clad in vast forests of eucalypts (commonly called gum trees), the Blue Mountains actually appear blue in colour. The explanation is quite simple. The entire area of one million hectare is covered with eucalypt vegetation.
Donkey business
Lokendra Singh
Donkeys in Rajasthan now have a hospital exclusively for themselves, thanks to "The Donkey Sanctuary", a U.K.-based organisation. The hospital has an ambulance that reaches anywhere in the region to treat the wounded donkeys. The treatment offered is free of cost.


Mobile magic
The mobile theatre of Assam that presents contemporary themes and adopts even Hollywood stories is extremely popular both in urban and rural areas of the state. Saswati Kaushik reports
IN Assam's entertainment arena, it's time for the carnival on wheels to roll out its magic. The vastly popular mobile theatre companies (known as Bhraymaman theatre locally) have launched their annual shows with stunts and emotional quotients packed together to make a winning combination of drama on stage.
Queens of hearts
M.L. Dhawan looks at the divas who left a mark and changed the face of Indian cinema in their own way
Since the release of Alam Ara in 1931, women have held an important position in Hindi cinema. Some of the epoch-making performances helped build public opinion against the exploitation of women. There were many who triumphed merely due to their beauty while several others made it big because of rare class.
A class apart
Ervell E. Menezes catches up with director Adoor Gopalakrishnan on his latest film
Adoor Gopalakrishnan is here with his new film Naalu Pennungal (Four Women) and has doubled Alberto Moravia's quota but he insists on that number because they represent the different strata of society. From down up, it is the prostitute, the virgin (field worker), the housewife (lower middle-class) and finally the spinster (middle-class).


Man on a noble mission
Grameen Bank, the brainchild of Mohammad Yunus, has achieved remarkable success in lending money to the poor of Bangladesh. The founder-chairman has pledged to rid the country of poverty by the year 2030, writes Shiv Kumar
Grameen Bank, the Nobel Prize-winning initiative that lends money to the poor of Bangladesh, came about quite by accident. "At a village just outside my university campus, I saw some poor women who were completely indebted to a money-lender. I made a list of all the loans taken by the women from him.
Church, Marxists and a comrade's corpse
Saj Mathews
THE aggravating war of nerves between the CPM, heading the ruling coalition in Kerala, and the Christian church, which accounts for at least one-fifth of the state's vote bank, has even gone to the extent of making a late Marxist MLA born as a Christian turn in his grave.
A 'brief' on style
Phiroze Kharegat
THE price quoted for what you call a men's underwear (and more politely as inner wear) in the famous Hilfigers luxury wear shop of Bombay at Rs 900 really surprised me. One should be normally able to get 20 of the standard Indian brands for that money.