Queens of hearts
M.L. Dhawan looks at the divas who left a mark and changed the face of Indian cinema in their own way
Since the release of Alam Ara in 1931, women have held an important position in Hindi cinema. Some of the epoch-making performances helped build public opinion against the exploitation of women. There were many who triumphed merely due to their beauty while several others made it big because of rare class. A few were successful in combining both.
Beginning with Sulochana (Ruby Myers) (1907-83), the visage that changed the face of Indian cinema. Till then, working in films was considered socially disreputable and the role of a woman was assigned to young, thin men. So when the petite, brown-eyed Sulochana started acting, her luminosity shone through in those black and white films. When her home company Imperial launched Alam Ara, it was Zubeida who was chosen to play the heroine due to her command over Hindi. Sulochana learnt the language and made a comeback with Madhuri.
Devika Rani (1907-94) was one of the most glamorous stars that Indian cinema has seen. Devika Rani's beauty justifiably passed into lore. Acchut Kanya made her the prima donna of films.
Nadira (1910-96) tossed the myth of the docile heroine into air. Fencing with villains atop running trains, swinging from chandeliers and doing stunts without resorting to stuntmen, she earned the epithet 'Fearless Nadia'.
That face, that voice and those tantrums, Suraiya was the definitive diva of the 1950s. Besides her voice, her performances, especially in Sohrab Modi's Mirza Ghalib, created history.
In almost all her films Nargis created a woman who could be desired and deified. The charisma of Nargis's screen image lay in that it oscillated between the simple and the chic with equal ease. In mother India, Nargis brought alive the agony of an impoverished mother. She glorifies the strength of a mother in a monologue to Goddess Lakshmi, saying 'Maa banker dekho, tumhare paon bhi dagmagga jayenge'.
Histrionics reached their peak with Meena Kumari. As the beautiful chhoti bahu of Sahib Bibi Aur Ghulam, her life was pathetic. She had everything except love. She was in mess both in reel and real life.
A large moon-shaped face, partially covered by strands of hair, glistening cheeks, limpid eyes coupled with a crooked smile — Madhubala had a face to die for. She effortlessly blended substance and form. In K. Asif's Mughal-e-Azam, Madhubala brought to life a form of beauty and artistic acumen that cannot be found fault with. When the prince caresses the face with a feather it makes him forget everything: family, royalty, hierarchy and protocol.
Gifted with effervescence, Geeta Bali crossed path with a classic and decided to produce and act in Rano — a cinematic expression of Rajinder Singh Bedi's novel on widow remarriage — Ek Chaddar Maili Si.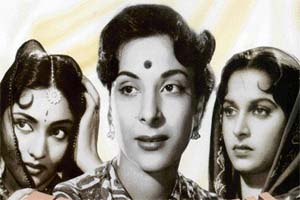 Vyjyanthimala, Nargis and Waheeda Rehman: The stalwarts of Indian cinema
While Vyjyanthimala shot to fame with Sadhana, Devdas and Madhumati, the best roles gravitated towards Nutan. As Kalyani in Bandini, she appears as a quiet woman with passion raging inside her. When she murders her former lover's neurotic wife, Nutan's face smoothly transmutes the workings of her mind.
Waheeda Rehman's classic beauty appealed all. Her voice, muted yet emphatic, was an index to her personality. In Guide, whether she was breaking the metaphorical pot of societal constraints during 'Aaj phir jeene ki tamanna hai' or running precariously over a ledge in keeping with her dangerous new desires, Waheeda performs quite convincingly. She dances like a dream and her eyes capture her joy. In her portrayals, Waheeda dug deep into her characters.
Sadhana defined the 1950s with her lovely face. The success of Love in Simla made her a youth icon giving her an edge over her contemporaries like Asha Parekh and Saira Banu.
Jaya Bhaduri (Bachchan) carved a niche for herself with performances in films like Koshish, Parichay and Abhimaan. As a wife whose popularity exceeds that of her songster husband, Abhimaan's story paralleled Jaya's life. Her eyes, kajal-rimmed pools of hurt and hope made her a compelling view. Sharmila Tagore's twin turn as two different prostitutes in Amar Prem (1972) and Mausam (1975) defined the transition in the portrayal of the fallen woman. The realistic whore of Mausam who spewed obscenities has become renowned but Sharmila conveyed more pathos as the moist-eyed, silent courtesan of Amar Prem.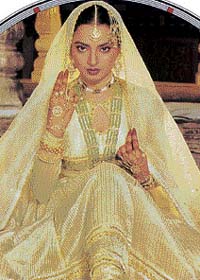 Rekha won a national award for Umrao Jaan
Rekha's flowering as an actress post Ghar and Khubsoorat climaxed in a national award for Umrao Jaan. As a tragic courtesan she gave a performance of consummate artistry, adopting a much-admired huskiness and despondency of tone. Rekha communicated much with a delicately raised eyebrow.
Zeenat Aman epitomised the cultural zeitgeist of the 1970s. Zeenat redefined the role of a heroine. She was the drugged-out flower child of Hare Rama Hare Krishna. The best work of Zeenat remains the sullen Janice blowing away her youth as she seeks a payback for her stolen childhood.
All those who have been following Dimple Kapadia's career from Bobby, Lekin and Rudali will assert that she is more talented than glamorous.
Smita Patil generated a body of work that went on to be a part of film festivals all over the world. She is most remembered for her roles in films like Subah, Mirch Masala and Arth. In Mahesh Bhatt's Arth, though Shabana as the wronged wife walked away with all the sympathy, Smita as the neurotic 'other woman' had a tougher role.
While Manisha Koirala charmed the audience in films like Khamoshi; the musical and Akele Hum Akele Tum, Karisma Kapoor teamed up with Govinda and David Dhawan to see her career graph registering a swing. She moved to meaningful cinema in films like Fiza and Zubeida.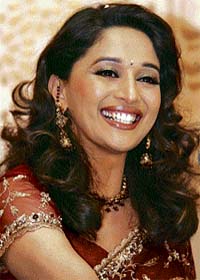 Madhuri Dixit: The new Indian woman
The popularity Madhuri Dixit achieved was phenomenal. When in the 1990s, cinema had no significant place for a heroine in the plot, Madhuri managed to tilt the balance. She bowled the world over with her manifestation of the new Indian woman. She portrays the independent intelligent, modern woman.
Kajol's roles speak volumes about the thought that goes into her selection of films. Films like Dushman, Dilwale Dulhaniya
Le Jayenge and Koi Mil Gaya saw her giving her best.
Preity Zinta represents the face of the Gen X. Her performances in films like Veer-Zaara, Salaam Namaste, Kya Kehna won over the youth and she became a style diva.
Aishwarya Rai is the personification of beauty at its celestial best. This former beauty queen's performance in films like Devdas, Taal, Hum Dil De Chukke Sanam stole many a heart.
Performance-oriented roles is what sets Tabu, Rani Mukerjee and Vidya Balan apart from their contemporaries. With high-powered roles in films like Maachis, Black & Parineeta, they have made an impact as quality actresses who are ahead of the majority who are either trapped in the rut wilfully or are incapable of finding a way out due to their mediocrity.