PUNJAB

HARYANA

JAMMU & KASHMIR

HIMACHAL

REGIONAL BRIEFS

NATION

OPINIONS

MAILBAG

BUSINESS

SPORTS

WORLD
Monday, December 10, 2007, Chandigarh, India
Updated at 3:00 am (IST)

EC notice to Sonia, Digvijay
New Delhi, December 9
The Election Commission today issued notices to Congress president Sonia Gandhi, party general secretary Digvijay Singh and BJP MP Vijay Kumar Malhotra for violating the provisions of the model code of conduct during their election campaign in Gujarat. The commission has asked the three political leaders to submit their replies "latest by noon on December 11" to enable it consider further action in the matter.


We have tried to allay fear among people: Azad
Jammu, December 9
Jammu and Kashmir is no ordinary state to be governed even in the best of the times. And during the worst of the times it certainly tests your mettle in every possible manner.


Ghulam Nabi Azad talks to The Tribune in Jammu on Sunday. — Tribune photo by Anand Sharma
Nagaland CM's request puts MEA in a fix
New Delhi, December 9
The ministry of external affairs is in a quandary over an unusual request which it has received from Nagaland Chief Minister Neiphiu Rio. Rio wants New Delhi to persuade Myanmar to declare a ceasefire with the Khapland faction of the NSCN instead of going hammers and tongs against the militant outfit.

CAST YOUR VOTE
Is building a nuclear submarine a strategic necessity?



CHANDIGARH

LUDHIANA

BATHINDA

JALANDHAR

DELHI

HIMACHAL PLUS

HARYANA PLUS

AMRITSAR PLUS

LIFESTYLE

BRIDES WANTED

GROOMS WANTED

OTHERS

HOW TO PLACE ADVTS
HOROSCOPE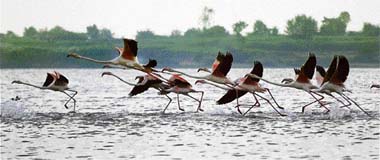 Flamingos take off from the Yeralwadi lake near Mayani village in Satara, Maharashtra, on Sunday. — PTI
CPM renews threat on 123
Asks govt to end talks with IAEA
New Delhi, December 9
Firing a fresh salvo at the government on the nuclear deal with the USA, the CPM has asked it to end the talks with the IAEA this month or get ready for elections. CPM general secretary Prakash Karat said at a meeting of the party's Delhi unit that the government would be told not to go ahead with the deal after its officials come back from the IAEA talks.


The Tribune to launch Jammu Edition today
As one of the most trusted newspapers, The Tribune has been serving the readers in the entire north-western India. We already have editions from Chandigarh, New Delhi, Jalandhar and Bathinda, besides editions for Haryana and Himachal Pradesh. In another major step forward, we are launching The Tribune's edition from Jammu today. — H. K. Dua, Editor-in-Chief

ADVERTISEMENT


E - Revolution 2005:
A Two-day IT conclave

Assembly Elections - 2005

Turbans

Chandigarh is 50

125 Years of The Tribune
India: The Tasks Ahead

EARLIER FEATURES
Sharif's PML-N to take part in Pak polls
Lahore, December 9
Former premier Nawaz Sharif's PML-N today decided to participate in Pakistan's general election after the All Parties Democratic Movement, the country's largest opposition alliance, failed to achieve consensus on boycotting the polls. "We will participate in the polls and we will see about seat adjustments later," Shahbaz Sharif, a senior PML-N leader and the brother of the former prime minister, said after a marathon meeting of the APDM.
Epic 239 by Ganguly
Pathan joins run feast with maiden century
Bangalore, December 9
Sourav Ganguly struck an epic 239 and fellow left-hander Irfan Pathan hit his maiden century as India tightened the noose around Pakistan in the third and final Test here today. For the second successive day, there was no respite for the toothless Pakistani attack with Ganguly bringing up his maiden Test double ton and adding 178 runs with Pathan (102) for the seventh wicket as India amassed a massive 626 in their first essay.
(Details on Sports page)


Haryana bonanza for SC students
Karnal, December 9
A scheme, which would go a long way in checking the high drop-out rate among Scheduled Caste students, was announced by Haryana Chief Minister Bhupinder Singh Hooda at the 'Dalit sammaan rally' here today. According to an estimate, out of over one lakh SC students, who join the schools every year, about 70 per cent students dropout before Class X.
Modi: I was misquoted
December 9, 2007
Free power in Punjab to go
December 8, 2007
Sohrab remark: EC rap for Modi
December 7, 2007
Govt fails to convince Left, BJP on N-deal
December 6, 2007
123: PM, Sinha exchange salvos
December 5, 2007
Sharif, Bhutto to frame demands
December 4, 2007
Bhajan Lal floats Janhit Congress
December 3, 2007
No incursion by China: Antony
December 2, 2007
EU mum on N-deal
December 1, 2007
Security board chief for China pipeline
November 30, 2007