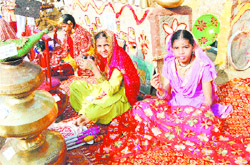 Virasat Mela, organised by JDS Public School in Amritsar, brings village life alive. — A Tribune photograph
Come Dec 14 and there will be less fog fuss
Engineering base of AI to start operations at Rajasansi
Amritsar, December 11
An engineering and maintenance hub set up by Air-India will become operational from December 14 at Rajasansi International Airport here. The centre has been established to avoid inconvenience to passengers due to foggy weather conditions.
SC decision on poll duty for teachers hailed
Amritsar, December 11
The Punjab Heritage and Education Foundation (PHEF) and the Amritsar Vikas Manch (AVM) have welcomed the decision of not deputing teachers on non-teaching work given by the Supreme Court.
Notorious smugglers in police net
Amritsar, December 11
Police arrested smugglers Ranjit Singh Rana, a resident of Hawelian village and Jaskaran Singh, a resident of Gobind Vihar, Maqboolpura today. Rana was arrested by a team of Special Narcotics Cell as he was waiting for someone near a hotel in Golden Cloth market to deliver a consignment along with one kg heroin. In another incident, smuggler Jaskaran was arrested along with 130 grams of smack at nakabandi near Vallah railway crossing.
Motivational lessons
Amritsar, December 11
Addressing students of Lovedale Senior School, at the annual day celebrations, held here recently, Arjuna Awardee and Olympian Col Harcharan Singh exhorted the students of to work hard in whatever sphere of life they chose.
Jatropha is answer to global energy crisis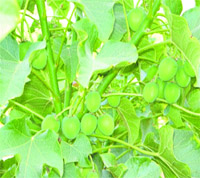 With the entire world heading towards an energy crisis due to depleting fossil fuels, Jatropha, known as Ratanjyot in Hindi and Punjabi can emerge as an alternative to solve fuel shortage. The wonder plant belongs to 'Euphorbiaceae' family and is known as Physic nut or Purging nut in English. More than 80 species of this plant are used to produce oil and Jatropha curcas is considered as the highest yielding variety. The Jatropha plant is generally three to five metres in height and the plant seeds contain 31 to 37 per cent of oil content.
DPS clinches skating title
Amritsar, December 11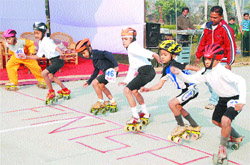 Hosts Delhi Public School beat Guru Harkishan Public School, GT Road, by 75 points to 25 to win the overall trophy at the fourth inter-school skating championship-2007. SL Bhavan bagged the third position with 21 points. Four DPS players scored top position, three won the second, while five of its skaters bagged the third position. Participants aged between six to 16 years took part in 10 different age groups in rink races I and II.
Students take part in the fourth inter-school skating championship at Delhi Public School in Amritsar. — A Tribune photograph
Virasat mela brings village life alive
Amritsar, December 11
Students of JDS Public School, Fatahpur Thande, brought village life alive with their talent on their school premises. The students displayed a typical household of village by cooking "rotis" and "dal" on "chulhas" run by burning cow dung cakes in earthen kitchen.
Golden Years
Penetrators celebrate silver jubilee
Amritsar, Dcember 11
The Penetrators Officers' Mess celebrated 25 glorious years of their service to the nation by organising three-day silver jubilee celebrations at New Amritsar Military Station which was presided over by Colonel of the regiment Brig D.R.N. Soni.
Vigilance week highlights need to stem corruption tide
Amritsar, December 11
The "vigilance awareness week" observed at the DAV Public School here highlighted the corrupt practices plaguing society. The week was observed in pursuance of the directions issued by the Central Vigilance Commission of India.
Citrus Magic
Little lemon is high on curative properties
Savreet Sandhu Among the Asian countries, India is the largest producer of limes and lemons and is grown in the northern plains of the country comprising the states of Punjab, Haryana and Uttar Pradesh where lemon has gained the importance of a kitchen garden fruit. Various types of lemons are grown in different regions. In Punjab, "baramasi" lemon is quite popular. It is cultivated mainly in the arid-irrigated regions and also in the sub-mountain zone. A lemon tree has the ability to tolerate infertile and poor soil.
Cupid Beckons
Changing trends of marriage
Beware! Cupid is active nowadays. The stage is all set for the sumptuous feast. Cupid is ready with all his festooning to strike your heart. And why not? This is the season of marriages. Today the glitz and glint of marriages encircle the very thought process of every youngster.
Plastic surgery facility
Amritsar, December 11
A new plastic and cosmetic surgery OPD complex was inaugurated by mayor Shawet Malik at Amandeep Hospital here. Dr Ravi Mahajan, chief plastic micro-vascular and cosmetic surgeon, gave a presentation about the various facilities available. He said the department of plastic surgery had been expanded in which he would be assisted by three more surgeons. Dr Avtar Singh welcomed the chief guests. He said the department would also have all the sub-specialties of plastic and cosmetic surgery in addition to general plastic, reconstructive and micro-vascular surgery.
US chain to open retail outlet
Amritsar, December 11
Indo Rama Retail Holdings Pvt Ltd has announced the opening of its first-ever retail outlet "Ist Office1Superstore" in Amritsar. The showroom would be inaugurated by Vishal Lohia, director, IRRHPL.