Indian classical music endowed with serenity: Bhatt
S.D. Sharma
Tribune News Service
Chandigarh, December 11
"Endowed with celestial serenity, blissful melody and sublime character, the Indian classical music is eulogised as the medium through which gods converse and command".
This is the opinion of International Grammy award winning legendary maestro, Padmashri Pandit Vishawmohan Bhatt, inventor and exponent of Mohan Veena.
If the legendary Sitar wizard Pandit Ravishanker is credited for his pioneering efforts to familiarise the world with the melodic opulence, emotive range and splendour of Indian classical music then his foremost disciple, Pandit Vishwamohan Bhatt, had done him proud by authenticating its veracity and enrapturing the art lovers the world over. In the city, on the invitation of Pracheen Kala Kendra along with his versatile Sitarist disciple, Amita Dalal, the music doyen of Maihar gharana shared his views with the Tribune on the art music scenario.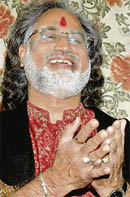 Back after winning top honour and accolades at the weeklong International guitar festival in Adelaide, where his disciple son Salil Bhatt partnered with him, the maestro is thrilled to see our music at its pinnacle of glory. The audience stormed the stage to greet us holding my Grammy winning album "Meeting by the River ". It was not just our devotion and diligence but the rich edifice of our musical heritage founded and nurtured by the great Rishis, who endeavoured hard to project into it, the strivings of their lifelong evocative experiences in structuring the ragas.
But today the learners of classical music want an instant name and fame and never shun to change or opt for any adventurous guru, he rued disclosing a few instances. As they concentrate more on stagecraft and presentation techniques aimed at winning just 'Wah Waah', the very purity of music and sanctity of raga is sacrificed.
After 'Meeting by the River' with Ry Cooder, another album 'Tabula Rosa' recorded in, California church in October 1994, was nominated for a Grammy. Tunes from 'A Meeting By The River' and 'Mumtaz Mahal', were featured on the soundtracks of films, 'Two Days In The Valley' and the Oscar award-winning, 'Dead Man Walking'. Bhatt, the skilled composer disclosed that he is fully dedicated to classical stream while all international honours have come just because of his 5 per cent contribution of time, but certainly backed with my lifelong devotion. My latest theme-based albums "Desert Slide" with Rajasthani folk singers, both the Langas and Manginyars, now released in London, had fetched the prestigious five-star rating. Giving a different dimension to compositions, I have blended the tarditioanl folk with classical music strains. But another album, a non-raga venture "Music for Romance' composed by my disciple son Saurabh, had a fusion of Sexophone, Accoutic guitar, Sitar with Mohan Veena in the lead.
Asked about likely discrimination among blood related and other disciples, he was candid enough to agree that sometimes a guru may make preference for providing show opportunity to his kin, but there is no prejudice in imparting 'taleem', because disciples are chosen with meticulous care and responsibility by the Guru.
On creating new Veenas he smiles to indicate that innovative experiments like shows must go on. I had earlier created Vishav Veena, by modifying Mohan Veena with additional 15 strings and an Instrument with newer concept, is in the offing.