Shore chance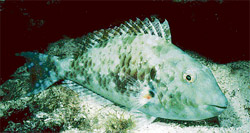 Aquaculture is concerned with the production and breeding of all varieties of marine produce, for consumption as well as industrial use, as also the processing of seafood, writes Usha Albuquerque
WHILE we normally associate aquaculture, or the cultivation of sea fauna, with areas near the coast, the enormous popularity of fish and seafoods has in recent years spurred the cultivation and propagation of the natural living produce of water suitable for consumption as well as for industrial and medicinal purposes. The mushrooming of fish food restaurants, and the popularity of fresh water fish from the many rivers in the north indicate the increasing growth of this sector.

Careercature
Sandeep Joshi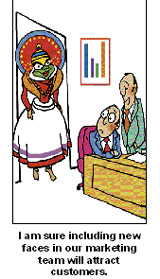 German hi-tech sector in need of Indian talent
Bernd Voelcker desperately needs programmers and sales managers for his software firm in Berlin, but he can't hire promising Indian or Chinese candidates because Germany's labour market has shut them out. For his company Infopark, the situation is getting critical. "In November, we had to refuse a contract for the first time," Voelcker said. "We are trying to farm out tasks and to get our clients to wait.

Yes, boss
R.C. Sharma
Ambitious candidates normally concentrate only on getting a good job. Little consideration is given to the fact that besides getting acquainted with the new work culture, it is important to get along with the boss. Among other things, a close working relationship with him is a must. Here are some tips to develop a cordial working relationship with the new boss.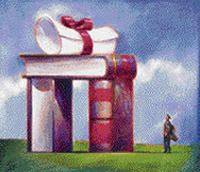 Bridging talent gap
Top IT firms are enhancing their interaction with colleges and universities to ensure that the graduates who pass out have skills to match the industry's requirements
Fearing a massive shortage of skilled manpower in the next few years, the country's top IT firms are enhancing their interaction with colleges and universities to ensure that the graduates who pass out from these institutions match the industry's requirements. Tata Consultancy Services, the country's biggest software exporter, as well as Infosys Technologies, Satyam Computer and HCL are among the companies that are either already working with engineering colleges or are planning to collaborate with the academia to churn out professionals with the right skills.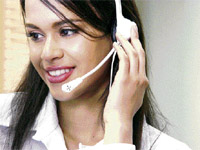 BPOs go extra mile to make staff smile
With offices becoming an extended home for millions employed in the booming BPO sector, the companies are coming out with innovative solutions to keep their employees stress-free and work unaffected from any possible burnouts. Be it a racing game on Xbox or PlayStations, workouts at a gym or a simple talk over steaming cups of coffee — the companies are making use of means available within the office premises in order to pamper their employees. "We have an employee lounge open 24/7 for our employees where they can simply relax or play indoor games like table tennis, chess, carom or computer games on internet kiosks during their breaks," the New Delhi-based business process outsourcing firm vCustomer's Executive Director Navin Joshua said.


Bits & bytes
Ground reality
Jet, Deccan short of CAT-III pilots
WITH winter setting in and fog a normal feature during the season, air travellers flying Jet Airways and three other private airlines may face delays as these carriers do not have even one pilot trained to fly aircraft when runway visual range is less than 200 meters.


Career Hotline
Pervin Malhotra
Scope in Singapore