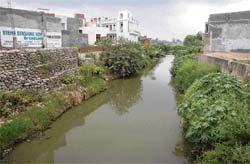 Visual assault: Houses constructed along the Sukhna Choe
Amenities Zero in Zirakpur
Zirakpur is a perfect example of lopsided development where the focus of the government's attention has been on granting indiscriminate approvals to colonies without making any effort to provide infrastructural support, reports Chitleen K Sethi
It is a tale of wasted potential and development gone haywire in the mad rush to make an early killing. Zirakpur, a township that has the potential of becoming the Gurgaon of Punjab is 'Zeropur' for those living there as far as basic amenities are concerned thanks to the enormous mistakes its planners made while it was coming up.
Auction time in Ludhiana
With two prime government properties set to go under the hammer later this month the realtors, investors as well as the state functionaries are all waiting with bated breath for the new benchmark in real estate market in Ludhiana, reports Jupinderjit Singh
Driven by the need to augment income and encouraged by the high price fetched in recent auctions of land by GLADA and Improvement Trust, two major properties owned by the government are all set to go under the hammer in the city.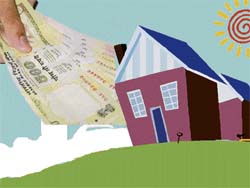 Rising house loan frauds worry RBI
Fraud detection and control is a great challenge for the banking industry and there is a need to strengthen and enhance people, process and systems, says S.C. Dhall
A study conducted on housing loan deficiencies and irregularities in the lending processes of the banks by the Reserve Bank of India (RBI) has revealed that frauds in the housing loan sector have increased tremendously over the past few years.
South a better realty market than North!
The North-South divide in realty is catching attention with a report saying that market in southern parts is relatively better. According to a research report by the global financial services Citigroup, South is a relatively better market than North on parameters like price environment and demand potential.
Selling pipe dreams
Jagvir Goyal questions the rationale and feasibility of a high-end residential-cum-commercial project being supported by the Chandigarh Housing Board
An ambitious and grand scheme offering dwelling units in Rajiv Gandhi IT Park, commonly known as CTP, launched jointly by a major builder and the Chandigarh Housing Board with much fanfare, has not been able to attract much response in the initial opening. According to sources the number of applications received for various categories of dwelling units has remained much below the desirable numbers and the private builder can, in fact, find it hard to recover Rs 821.21 crore that it has to pay to the CHB for 123 acres of land in CTP. Of this amount, Rs 369 crore has already been to the CHB by the private builder.
REAL talk
Now, consumer is the king


Pradeep Sharma
Political stability and "people-friendly" real estate policies of the Punjab government have made Chandigarh's periphery a hot property for investors and end users, says Dakshdeep Singh, chief operating officer (COO) of the Parkwood Developers Private Limited. In an interview with The Tribune, the young builder said speculation in the real estate sector was on its way out as end users were again in the forefront of the real estate market. Dakshdeep Singh
TAX tips
Why house-building advance and loan taken from bank treated differently?
By S.C. Vasudeva
Q. As per the house building advance rules of Government of India we can take the HBA for purchase of plot and construction on the site thereof. We can take 40 per cent amount of HBA entitlement for purchase of plot and remaining 60 per cent in two instalments of 30 and 40 per cent after the registration deed and building plan approval (for single-storeyed house). Why the home loan taken from the bank in the similar manner i.e. partly for the purchase of plot and partly for construction, not treated at par for claiming income tax rebate? In my case I have taken loan for purchase of plot Rs 4 lakh and Rs 5 lakh for construction, Then under which rule HBA and home loan advance given by financial institutions can not be treated at par?
GRound REALTY
Tips to plug the leak
Faulty laying of sanitary and rainwater pipes may leak out your peace of mind, so follow these guidelines enlisted by Jagvir Goyal for trouble-free service
Howsoever good may be the quality of sanitary and rainwater pipes, these will not provide trouble-free service unless we fix and lay them in a correct manner. Slopes, wherever given, 'pipe to pipe joints' and 'pipe to fitting joints' are to be given special attention. Joint fixing materials are to be chosen carefully. Before discussing the correct method of laying pipes, here are a few guidelines on joint fixing of pipes:
IL&FS raises $578 m through RE fund
IL&FS Investment Advisors has raised $ 578 million through its second real estate fund and targets to close the fund at $ 750 million.