COLUMNS



THIS ABOVE ALL

TELEVISTA

GOOD MOTORING

AUDIO SCAN

MUSIC ZONE

WEBSIDE HUMOUR

FOR CHILDREN



CROSSWORD

RHYME TIME

ROOTS

Pilgrimís Progress
The Vaishno Devi shrine is one the most visited religious seats in the country. A.J. Philip finds the arduous 14-km climb from Katra to the temple both exhausting and exhilarating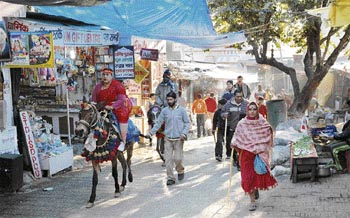 MY friend and playwright Omcherri N.N. Pillai, who coined the slogan garibi hatao which Indira Gandhi used with telling effect in the 1971 election, shared an anecdote I remember whenever I visit a religious shrine. He was in charge of the public relations department of the Food Corporation of India.

Shops selling souvenirs are dime a dozen along the path.

A new road to stardom
Abhishek, Rohan, Anoushka and Omar may have followed their renowned fathers in their professions but there are some celebrity children who dare to dream differently and have become famous in their own fields, says Gyan Marwah
For celebrity children it has often been a Hobsonís choice. Either follow the profession of their illustrious parent or be bold and choose their own destiny. Most like Ravi Shankarís daughter Anoushka, Amitabh Bachchanís son Abhishek, Husainís son Shamshad, Gavaskarís son Rohan, Shahnaz Hussainís daughter Nilofer, Farooq Abdullahís son Omar and others accept this as preordained and follow their famous parenttracks.