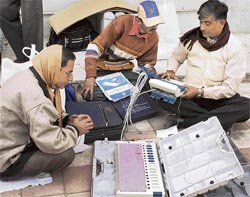 Polling officers check the equipment given to them at Ahmedabad on Saturday. — PTI
Sisodia Case
SC no to transfer from Shimla to Panchkula
New Delhi, December 15
The Supreme Court has found no reason for the transfer of a high profile Sisodia case from Shimla to Panchkula, which in April 2003 had hit the headlines for virtually turning into a cause of confrontation between the police of Himachal Pardesh and Haryana.
Key ISI operative held in Assam
Guwahati, December 15
The Assam police arrested a hardcore operative of the Pakistani Inter Services Intelligence (ISI) in a special operation carried out in a city locality last night.
Custodial Death
M'rashtra to compensate victim's mother
Mumbai, December 15
The Maharashtra government is planning to provide compensation to Aasiya Begum, mother of a software engineer Syed Khwaja Yunus who was allegedly killed in police custody. Yunus, a software engineer based in Saudi Arabia, was on holiday in his hometown in Aurangabad in 2002 when he was picked up by the Mumbai police.
LSA voluntary pact, not binding: US
New Delhi, December 15
Seeking to allay apprehensions over the logistics support agreement (LSA) it has offered to India, the US has said the pact is not binding on the country and transactions under it would be voluntary and on a reciprocal basis.
India sets up deep space network
Bangalore, December 15
India has established a deep space network (DSN) near here which besides providing tracking and command for the country's unmanned moon mission planned for April 9, will also serve as a base station for future planetary explorations.
ISRO: No INSAT-4CR disappearance
Bangalore, December 15
The Indian Space Research Organisation (ISRO) today refuted reports alleging that its INSAT-4CR satellite had 'disappeared' for a while in space and later 'brought back', reducing its ten-year life span by half.
Lights switched off in Mumbai to save Earth
Mumbai, December 15
In a first of its kind initiative in the country, thousands of Mumbaikars turned off all electrical appliances for an hour this evening as part of a campaign to spread awareness about global warming and climate change.
Mahajan case verdict likely on Monday
Mumbai, December 15
The sessions court is likely to deliver its judgement in the Pramod Mahajan murder trial on December 17.
Tejeshwar Singh dead
New Delhi, December 15
Tejeshwar Singh, publisher, theatre actor and television news reader, whose deep baritone demanded compelling attention from the viewer, died in Mussoorie on Friday night of a sudden heart attack.
Charges framed against Taslimuddin
Araria (Bihar), December 15
A local court today framed charges against union minister Taslimuddin and two others in connection with an over two-decade old case relating to the arrest of a quack from his residence.
Lifting emergency welcome decision: Pranab
Raipur, December 15
External affairs minister Pranab Mukherjee welcomed Pakistan President Pervez Musharraf's decision to lift the emergency in that country.
Majority in Parliament opposed to N-deal: Bardhan
New Delhi, December 15
CPI general secretary A.B. Bardhan affirmed yesterday that the CPI was opposed to the Indo-US nuclear deal. He stated categorically, "We do not want the deal to be operationalised." Bardhan insisted that the majority in Parliament was against the Indo-US deal and asked the government to take the "sense of the House" into account and scrap the agreement.
Lakshmi discharged from hospital
Bangalalore, December 15
Two-year-old Lakshmi Tatma, who underwent a successful complicated surgery to separate her from a conjoined parasitic twin at a superspeciality hospital about 10 weeks ago, was discharged today.
Telugu comedy king makes it to Guinness
Hyderabad, December 15
The comedy king of the Telugu cinema, Brahmanandam, has laughed his way into the Guinness Book of World Records.
Spoof on Gowda's family
Bangalore, December 15
Before electioneering to the forthcoming Assembly elections in Karnataka begins in right earnest, the Janata Dal (Secular) supremo and former Prime Minister H.D. Deve Gowda wants to put a lid on the shooting of a Kannada film.
5 Haj pilgrims killed in Mecca bus mishap
New Delhi, December 15
Five Haj pilgrims from India, including three women, were killed and 19 others injured when their bus met with an accident near Mecca in Saudi Arabia today.
Zoo lion dies of pneumonia
Junagadh, December 15
A lion died last morning from pneumonia at the veterinary hospital in Sakarbaug zoo.