Bollywood on the table
Aruti Nayar
Bollywood Today
by Kaveree Bamzai, Lustre Press/Roli, Pages 173. Rs 795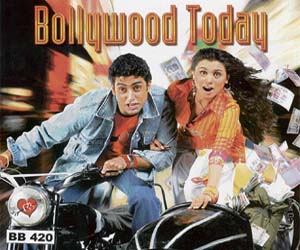 A national fascination, along with cricket, Bollywood will continue to grab eyeballs and sustain interest. Kaveree Bamzai's book caters to readers across the board, from avid movie watchers to students of cinema and the uninitiated foreign viewers. In fact, all those with a keen interest in the dream factory that churns out fantasies will like the book which reads very much like its subject matter. It is frothy, likely to sweep you along and has a nebulous quality that prevents one from questioning while thoroughly enjoying the willing suspension of disbelief. The language is racy, tone incisive and the analysis of various actors and directors gives it value as a tool kit for serious students of the craft.
It is the visuals that captivate and seduce the reader and the text is merely playing the role of a supporting actor in this well brought out coffee tabler.
A media critic of repute and a senior journalist with India Today, Bamzai's writing has a breezy quality that is engaging.
In the 173 pages, the writer has managed to pack in quite a punch and show a wide sweep. From the flashback of yesteryear follows a pithy chronicling of the decades from the 1930s to the 1990s, in capsule form evocatively titled: The stirrings, birth of the auteur, crossing over, rise of parallel cinema, Amitabh Bachchan rules and the great fightback.
A summing up of the major stars with apt descriptions is delightful. Amitabh is the ageless icon, Shah Rukh the outsider and Sanjay Dutt king of comebacks. Aishwarya Rai is the ice maiden, Preity no simpering princess and Rani Mukerji the girl who is a woman. Similar cutting-edge observations define the directors' section. You have Vishal Bhardwaj as Captain Courageous, Ram Gopal Varma Master of Mumbai Noir and Mahesh Bhatt as Basic Instinct. The writer is of the view that one willcome across a mix of reel and real repeatedly in the new narrative of the emerging Bollywood. In what can be a jarring note in the otherwise well-synchronised narrative is the English translation of popular films even though they are given within brackets. Perhaps that is a concession for the foreign readers. Otherwise any avid Hindi film fan would baulk at calling Kaho Na Pyaar Hai — Say You Love Me, Trishul — Trident and Dil to Pagal Hai — The Heart is Crazy.
The cherry on the Bollywood cake are the acerbic captions. Sample a caption: Unbuttoned: Both Mallika Sherawat and Salman Khan find it difficult to keep their shirts on in an industry that sometimes hits below the belt. It is this irreverent, cocky and at times mocking take that makes the book eminently readable. A befitting tribute to a vibrant industry.