NATURE
Valley's winged visitors
The number of migratory birds flocking the Hokersar wetland has increased, thanks to the conservation measures, says Ehsan Fazili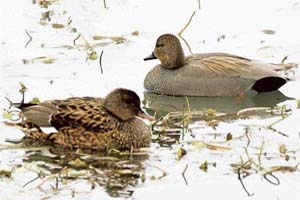 The number of visiting birds has touched a record number of more than six lakh this year. — Photo by Amin War
Every year the wetlands in northern Kashmir play host to variety of migratory birds from Siberia and other parts of the North Pole during winter months. They find their home in the comparatively warmer region by flying over thousands of kilometres at the heights of between 4,000 and 10,000 ft crossing over the Himalayas to their home, Hokersar wetland, north of Srinagar. They come from the rest of the Indian subcontinent, China, north and east Europe, Central Asia, Japan and Siberia. Hokersar is the largest wetland surrounded by cluster of wetlands of once-popular Rakh-e-Arth (pasture) area, about 15 km north of Srinagar.
The visiting bird species include grey-leg geese, pintails, common teals. shovellers, gadwalls, pochards and mallards. The number of the visiting birds that had gone down to merely 60,000 in 1990-91 and 25,000 in 1991-92, has touched a record number of more than six lakh birds, which may further go up, thanks to the conservation measures. These measures include improvement in the habitat with congenial atmosphere without outside physical disturbances, the officials said.
Hokersar, one of the important and protected transitional wetland for migratory birds, is spread over 13.75 sq km, though its effective area has been reduced to 5.6 km. The depth of water in the wetland that ranged between three and 10 feet, has been reduced to 1-3 ft. only. Other wetlands like Mirgund, Narkara and Shalabugh in the Rakhe-e-Arth area, and Haigam and Wular lake areas further ahead towards the north are declining in size due to factors like the accumulation of more silt through floodwaters and encroachments.
The Department of Wildlife Protection of the Jammu and Kashmir Government, however, over the years has taken several measures to develop a congenial atmosphere in the wetlands for more birds to make their home not only during winter, but also during summer.
What forces these 'winter tourists' to make this adventurous flight to the valley are its congenial climatic conditions, availability of plenty of food, shelter and a resting place when temperature in the northern region is very low, opines Abdul Rauf Zargar, Wildlife Warden at the Hokersar wetland.
"When there is an increase in temperature, these birds return to their places or find new refuges on way back", he adds.
"These birds navigate to the attractive resting place in Kashmir by identifying mountain peaks, stars, with the help of moon and gravitational pull of earth", Zargar said. These birds usually settle along the wetlands in north Kashmir, where these are in plenty due to its low-lying area, which helps in development of water bodies.
Apart from other water bodies in north Kashmir, which have been under the purview of wildlife protection, Wular Lake, the largest lake in Asia, has also been brought under the purview of the Wildlife Department for Bio-Diversity Conservation. These water bodies also protect human beings from heavy floods, and are resources of fish and fodder providing sustenance to the population. The migration of birds also adds to the aesthetic value of a particular area and helps study of bird behaviour, opine the experts.
"We can have local tourism sector and eco-tourism with development of the area", comments Zargar.
To attract more winged visitors, the department takes measures to regain constant water level before the migration period. "We create water pools so that the birds can settle", Abdul Rauf Zargar pointed out. The removal of weeds is also undertaken at proper intervals with the making of waterways to facilitate movement of boats for anti-poaching. "We induce some edible plants inside like Traupa (water chestnut) plantation to provide alternate source of food material and also break thick ice layers at times to introduce paddy grains", he said. The wetland is a source of livelihood for a large population of more than 65,000 living along its fringes by way of sale of fish, and fodder from hydrophytic plants, food like nadroo, singhara, willow for wickerwork.
In recognition of its biological hydrological and socio-economic values, the Hokarsar wetland was included as one of the "Ramsar sites" among 25 wetlands of international importance from the Indian subcontinent. This is threatened by various factors, mainly the encroachments resulting in conversion of vast wetland area for agricultural purposes.
Other factors include weed infestation and silt accumulation during floods through the flood channel that cuts through the area. There is also threat from fertilisers, animal garbage and during floods as dumping yard for pollutants from the Jhelum river. Hunting pressure for the migratory birds is also a threat to this largest wetland near Srinagar. The Department of Wildlife Protection is empowered to check the deterioration of wetland and improve and develop its infrastructure to make it a "tourist destination under eco-tourism", and improve the bird habitat. It is thus developing strategies for conservation and management of the wetland by integrating social and ecological dimensions for which it has already submitted a plan under the Prime Minister's Reconstruction Programme to the Central Government for the development of the wetland.