US campus killings: Sketches released
Ashish Kumar Sen writes from Washington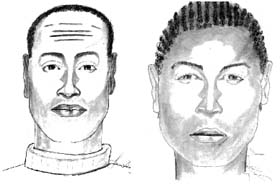 The police on Monday released sketches of two suspects wanted in the slayings of two Indian students at Louisiana State University.
The first suspect is believed to have been the driver. He is a black male, estimated to be in his 20s. His hair was done in twists in rows. He was wearing a white hooded sweatshirt.
The second suspect, is a black male also in his 20s, possibly even over 30, 5'8"-5'10" tall, with a muscular build and a receding hairline. He was wearing a white long sleeve shirt with a high collar and dark jeans.
The men are wanted in the brutal murder on Thursday night of Chandrasekhar Reddy Komma (31) and Kiran Kumar Allam (33). They were killed last week at the Edward Gay Apartments.
Investigators believe the suspects were in an older model light-coloured Oldsmobile Alero. They think as many as four black men were involved in the attack. The police did not release sketches of the other suspects.
The suspects were observed on the complex property as early as 9 pm on December 13, and may have been in the general area or on property even earlier.
The university said all investigative indicators so far are that the suspects were scouting for an opportunity to rob someone, and the working investigative theory at this time is that the suspects may have observed Komma arrive at the complex to visit his friend Allam, and may have followed Komma into Allam's apartment.
These suspects should obviously be considered armed and dangerous and should not be approached.
Meanwhile, the university lowered the American flag on the Parade Ground to half-staff in honour of the slain doctoral students. The flag will fly at half-staff until 4:30 p.m. on Friday.