GREEN BOOM in Boormajra school
Chitleen K. Sethi
Tribune News Service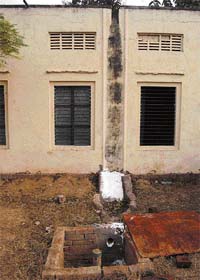 The rainwater harvesting system which won 'green' points for Government Senior Secondary School, Boormajra, Ropar.
— Tribune photo by Vicky Gharu
Boormajra (Ropar), December 18
From the outside, Government Senior Secondary School, Boormajra, looks like any other rural government school of Punjab. It's difficult to believe that students of this school can defeat over a thousand other school teams from India to win the prestigious "Greenest School of India" title for 2007 for the school. And that too two times in a row.
The school has won the Gobur Times Green School Programme Award based on an all-India rating of schools for the second consecutive year.
Take a walk around the school and one realises that this school deserves the award on all counts. Drinking water in the school is saved from going waste. Extra water flowing from taps is collected in the floor trap and channelled into flowerbeds. Rainwater is harvested from the rooftop and collected for the recharging of ground water.
Saving water is one of the five activities that the school's eco club is involved in under the charge of five environment leaders. All waste water is recycled. "Any one who collects a hundred wrappers of toffees or chips packets is given a token prize. These wrappers are then used to make decorations," explained school principal Jaswant Singh.
Polythene bags are collected throughout the year and given to any one in the village undertaking construction. "Students tell villagers that a layer of polythene plastic in the foundation of the building would restrict humidity from reaching the walls," said Harinderjit Kaur, school teacher who along with club's teacher in charge Gurpal Singh, motivates the students.
Every bit of paper waste is collected and reused in one way or the other. "Empty pages left in notebooks after the end of the session are collected and made into and reused as autograph books or small personal diaries," said Namit Kumar, the "wastage" leader of the school who created a model of the school from paper waste.
The eco club students have involved villagers in their other efforts too. "The club members launched a campaign that every house in the village would use smoke free chulha. We all went door-to-door and helped the residents build a smoke chimney," said Mandeep, the "air" leader. Harpreet Kaur, the "water" leader, has now planned to motivate villagers to harvest rainwater.
"We also hold awareness camps in the village. We save the maximum possible energy in the school and also ask the villagers to do so," said the "energy" leader, Rajbir Kaur. Sazia, the "land" leader of the school, is responsible for the upkeep of the hundreds of plants and trees on the school campus.
This rural school competed with some of the top urban private English schools from the country and won despite all odds. "None of the five eco club leaders of the school can speak English coherently but their confidence and concern for environment has brought this award to the school for the second year," said elated teacher Vandana Sharma.