Global warming
Corals could be wiped out
Steve Connor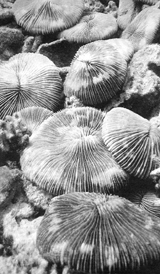 Increased levels of ocean acidity make it harder for coral reefs to form their calcium skeleton.
Almost all the coral reefs in the world will disappear by the end of the century if global temperatures continue to rise as predicted by the Intergovernmental Panel on Climate Change (IPCC), a study has found.
Rising temperatures and an increase in the acidity of the oceans will make it impossible for tiny coral organisms to make their calcium-based shells, according to the most definitive review yet of how well coral reefs will cope with global warming.
Scientist predict that unless countries drastically curb their emissions of carbon dioxide, some of the biggest reefs with the highest biodiversity, such as the Great Barrier Reef of Australia and the spectacular corals of the Caribbean, will become underwater deserts within the lifetime of people alive today.
A group of 17 eminent scientists from seven countries came to the pessimistic assessment after studying the worldwide scientific literature on rising concentrations of carbon dioxide, ocean acidity and global temperatures.
The study concluded that the expected increase in carbon dioxide this century will make earth uninhabitable for the vast majority of coral reefs. As a result, it will put intolerable pressure on the hundreds of millions of people who rely on the reefs for their livelihoods.
"This crisis is on our doorstep, not decades away," said Prof Peter Mumby, of Exeter University. "Unless we act now, coral reefs are likely to dwindle into insignificance. They'll be reduced to seaweed beds, rubble and a few scattered corals.
"The livelihoods of many millions of people living along the coasts of tropical developing countries will be among the first major casualties of rising levels of carbon in the atmosphere," said Professor Mumby, one of the authors of the report published in the journal Science.
Corals suffer from increasing levels of carbon dioxide on two fronts. Rising temperatures cause "bleaching", when the symbiotic algae that lives within the coral is expelled. Secondly, CO2 dissolving in the oceans boosts acidity which prevents the process of shell formation.
Current levels of carbon dioxide in the atmosphere are running at about 383 parts per million, but the IPCC predicts that that is likely to increase to at least 500ppm, with a corresponding 2C increase in global average temperatures by 2100.
About a third of the extra carbon dioxide added to the atmosphere by human activities is dissolved in the oceans which increases the concentration of carbonic acid.
This extra acidity dissolves certain carbonate minerals in seawater, notably a mineral called aragonite which is used by corals to make their external calcium skeleton.
"Before the industrial revolution, more than 98 per cent of warm water coral reefs were bathed with open ocean waters 3.5 times supersaturated with aragonite, meaning that corals could easily extract it to build reefs," said Long Cao, a marine researcher at the Carnegie Institution in Stanford, California. "But if atmospheric carbon dioxide stabilises at 550ppm, and even that would take concerted international effort to achieve, no existing coral reef will remain in such an environment."
Professor Mumby said levels of carbon dioxide were higher now than they have been for at least 740,000 years, and possibly higher than at any time in the past 20 million years.
"Coral reefs are the largest living structures on earth and are home to the highest biodiversity on the planet," said Professor Mumby. "The environment that has enabled coral reefs to thrive for hundreds of thousands of years is changing so fast that compensatory biological responses are lagging behind.
"Better conservation, such as enforcement of fisheries regulations, is essential in order to buy time for coral reefs. If we can reduce local stresses and simultaneously curb carbon dioxide emissions to within 450ppm, then coral reefs and the food and housing security of millions of people could yet be saved."
Professor Ken Caldeira, of the Carnegie Institution, another of the authors of the study, said: "These changes come at a time when reefs are already stressed by climate change, overfishing and other types of pollution. So unless we take action soon there is a very real possibility that coral reefs, and everything that depends on them, will not survive this century." — The Independent