Now, cradle care for abandoned baby girls
Amritsar, December 21
Concerned over the incidents of newborn girls being abandoned by their parents, the district administration and the Red Cross Society have decided to launch the "Pangurra" scheme to ensure that the lives of these babies are saved.
'Sant Sipahi' wins over US audience
Amritsar, December 21
Well-known Punjabi theatre artiste Har Rajeshwar Dyal Singh is back after making waves the USA with shows of his play "Sant Sipahi" held in 19 cities. He played five different characters in the play, based on the two- century old history of the Sikhs from martyrdom of the fifth Guru, Guru Arjan Dev, to the sacrifice of the four sahibzadas of Guru Gobind Singh.

A scene from the play which was staged in 19 US cities. — A Tribune photograph
India In Unison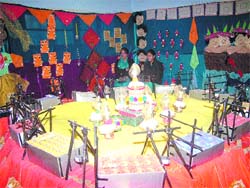 Glimpse of India at DAV
Amritsar, December 21
Presenting a glimpse of Indian crafts, a two-day craft exhibition, "India in unison", was opened at DAV Public School here. The event exhibits traditional crafts of nearly 20 states created by students from pre-nursery to class X. The event that strode from Kashmir to Kanyakumari and east-west of the country was inaugurated by Mayor Shavet Mallik. In addition to the exhibition, special food courts and games have been put up for fun.
Articles prepared by DAV Public School students displayed at a craft exhibition in Amritsar. — Tribune photo by Vishal Kumar
GNDU takes a green step
Amritsar, December 21
"Due to lack of human vision, biodiversity is being lost and soil being rendered barren," said Dr Inderjeet Kaur, president, All-India Pingalwara Society, Amritsar, while inaugurating the refresher course in environment studies at Guru Nanak Dev University here on Wednesday.
Drop Mohali airport project, says AVM
Amritsar, December 21
The Amritsar Vikas Manch (AVM) today urged Prime Minister Dr Manmohan Singh and UPA chairperson Sonia Gandhi to drop the Mohali international airport project. In a communiqué to Punjab Chief Minister, manch patron Charanjit Singh Gumtala said the proposed airport at Mohali would only encourage shifting of industry from Punjab to Baddi in Himachal Pradesh and some areas of Haryana.
Five books of Dr Kairon released
Amritsar, December 21 Renowned poet and Sahitya Akademy Award winner Surjit Patar released five books of noted Punjabi writer Dr Joginder Kairon, including "Neele Tarian Dee Maut", depicting the post-period of Operation Bluestar, at a function held at Sri Guru Harkrishan Public School here today. Patar was the chief guest on the occasion.
Craft exhibition ends
Amritsar, December 21
An art and craft exhibition held at Senior Study School concluded here today. Craft exhibits made by young artists from grades I to V were put up at the exhibition. Students prepared the items under the guidance of their craft teachers Reena Kundra and Baljinder Bal. — TNS