NRI boost for Punjab realty
Love for land and the lure of lucre have always been irresistible for the ever-enterprising NRI, who is making the most of the real estae boom in Punjab these days, finds Varinder Singh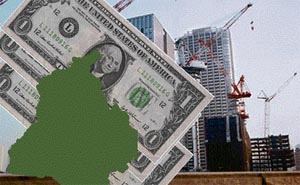 They may be called 'non-returning Indians' by the sceptics but one thing that the NRIs of Punjab are surely bringing back to their state is their pounds and dollars to keep the real estate market revved up. Slight dip in the real estate market over the past few months too has failed to discourage the NRIs from across the globe who are coming to Punjab, particularly the Doaba region, from investing in commercial and residential properties.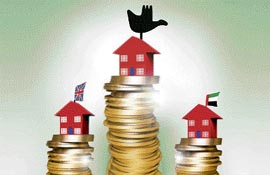 London, Dubai or Chandigarh?
Le Corbusier's architectural marvel--Chandigarh--is no longer a city of "chittian dariyan, harian jharian" (grey beards and green belts). In the backdrop of the real estate boom, the city is giving tough competition to Indian metros as well as overseas metros like London and Dubai as far as the property prices are concerned.

Illustration by Gaurav Sood
Bathinda arrives
Bathinda and its adjoining areas have been known as the backwaters of Punjab for a long time. But the picture seems to be changing, and changing fast in this predominantly rural area of Malwa if one considers the growth in realty sector in the area. Not only have land prices maintained an appreciable growth but the area has also caught the fancy of major realtors and builders.
Pride Group plans new hotel in Mumbai
Pride Group-promoted Pride Hotels plan to construct a 200-room five star hotel near the Mumbai International Airport. Announcing this here, Pride Group chairman S.P Jain stated that the group had received a significant investment from Kotak India Real Estate Fund for part financing of its Rs 340 crore expansion-cum-renovation plan. Jain said the Group would also bring an Initial Public Offer (IPO) for this purpose in the first quarter of next year.
GREEN HOUSE
Wow and wild!
The horticultural development work in an estate needs careful handling. It has to be thoroughly planned before the actual planting work is undertaken. It is so because the same territory is to be shared by different development wings viz. telephone, sewerage, electricity etc.
Building tech industry rides on realty wave
Riding on the real estate's growth, building technologies industry, which mainly provides fire safety, electronic security and management solutions, is expected to increase its market size by more than three times to reach $1,300 million by 2012, an expert said.
Nanocity
Bhatia close to signing realty funds
Hotmail co-founder Sabeer Bhatia is close to signing a deal with two or three real estate funds for his multi-billion dollar Nanocity near Panchkula.
REAL BURN-OUT
Bangalore investors look for low-cost apartments
Three to four years back, the smart thing to do for anyone with a little capital to spare was to be on the look out for proposed developments. Even before anything took off, our guy would book a flat in a proposed complex at pre-launch prices. Two months afterwards when the project was launched officially the price of his flat would increase by a few lakhs and two years down the line, he could sell his flat at almost double the amount invested and laugh all the way to the bank.
Tax tips
Long-term capital gains on ancestral land
Q I am a senior citizen and intend to sell my share of the ancestral agricultural land (located within municipal limits) in Punjab, which I inherited in 1980. I do not know when the land was purchased by my grandfather and at what cost. My query is : How to determine the long term capital gain and the income tax payable thereon, if I sell the land in question for about Rs 20 lakh.
Real News
Rs 100 cr housing project launched in Jammu
New Delhi: City-based realty firm Parsvnath Developers Ltd has launched its residential project 'Parsvnath Passion' in Jammu, which has a realisation value of over Rs 100 crore in next three years. "The project, with a saleable area of over seven lakh sq ft, is the first integrated group housing project being developed in the state by Parsvanath", a company statement said.
Collage group launches Rs 100 cr housing project
Omaxe gets green signal for Rs 1,800 cr project
HUDA to construct 20,000 houses for slum dwellers
DLF to construct Rs 80 cr multi-level parking
Mantri Realty launches Goregaon residential project