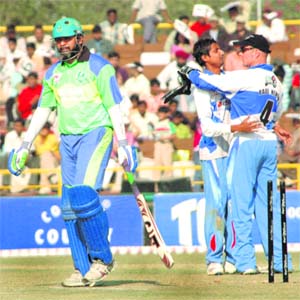 The ICL take-off was fairly successful but it is still too early to predict its players' prospects. At the end of the day, however, several unknown players got a platform to prove their mettle, says Gopal Sharma
THE Indian Cricket League (ICL) deserves credit for at least giving the lie to the notion that there is dearth of cricket talent in the country. The 17-day extravaganza that concluded at Tau Devi Lal Stadium at Panchkula on December 16 brought centrestage a host of talented youngsters, who otherwise were facing obscurity.
Zee's best soap
Aditi Tandon says the ICL tournament, which had the ingredients of a riveting TV soap, managed to grab eyeballs of cricket lovers
ZEE Entertainment head Subhash Chandra has just pulled off his best act. Given the media baron's fetish for novelty, the Indian Cricket League (ICL) inaugural in Panchkula may not have come as much of a surprise. But then it did, with the event shaping up as "more than just a game". It was in fact Zee's finest soap to date, its very first episode starring Kareena Kapoor.
Starry networking
A number of TV stars treat Orkut as a channel to interact with their fans and get a frank feedback, says Srabanti Chakrabarti
OVER decades celebrities have made themselves more and more unapproachable in order to climb the popularity charts. The logic being — the less people see you, the more curious they become to know about you. In fact, production houses have been using this to their advantage by bringing the normally hidden stars in the forefront just before the release of a film.
Tea back with a bang
Tea has always been the favourite drink in corner street shops. But it slipped from its position among the hot and stylish joints in recent times. Now it is reinventing itself, finds Anju Munshi
ARE you a stickler for a good cup of tea, rich in aroma and taste? Do you believe that a good cup of tea kickstarts your morning? Be happy then, for tea has arrived back on the scene with tea boutiques and tea parlours catching people's fancy in a way that has never happened before. Tea is back in its new avatar in a reinvented form and has come a full circle.