food talk
Priceless pulao
The warm mewa pulao is perfect to beat the winter chill, says Pushpesh Pant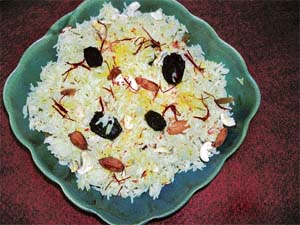 THERE are pulaos and pulaos. To begin with, there are the non-vegetarian pulaos that can be prepared with mutton or chicken or even fish and prawn. Then there are the vegetarian delicacies that go by many names — zeera, peas or navaratan (that translates as a mixed seasonal vegetable pilaf.) The most exotic and expensive, of course, is the gucchhi pulao prepared with aromatic dried morels from the Vale of Kashmir.
There are practitioners of the culinary craft who try to palm off vegetarian pulao as biryani substituting kathal for flesh, fowl or fish. To be honest, one has long been pining for
something different.
Pulao yes, but the staple fare that has jaded the palate certainly no. Spare us, the makhana-shakhana, khumbh and kabuli channa and please let us not confuse the tahri or khichdi with the pulao. There are also sweet pulaos like zarda and muzaffars, incorporating saffron and fruits. We were delighted when recently our good friend Rashmi Dar treated us to mewa pulao. Our other Kashmiri friends dispute that this is an authentic recipe but we are not complaining. The stuff is refreshingly different and tastes good. The warm pulao is perfect for this cold and chilli weather. Dried fruits and nuts, as everyone knows are tonic restoratives, just what the doctor prescribes for the shishir ritu.
chef's corner
Ingredients
Basmati rice (soak in water for 30 minutes) 400 gm
Raisins 50 gm
Cashew nuts 50 gm
Almonds 50 gm
Sultanas 50 gm
Green cardamom 4-6
Green cardamom powder ˝ tsp
Lemon juice 2 tbsp
Ginger piece (juliennes) ˝ inch
Onions (fried & golden brown) 2 tsp
Ghee/clarified butter 2 tbsp
Onion (chopped) 2 tbsp
Garlic (paste, strain) 1/2 tsp
Ginger (paste, strain) 1/2 tsp
Kewra jal one tsp
A few strands of saffron
Salt to taste
Potli masala
Black cardamom 4-5
Cloves 3-4
Cinnamon sticks (1 inch long) two
Bay leaf two
Method
To make the potli put both the ingredients in a mortar and pound with a pestle to break the spices, fold in a piece of muslin and secure with enough string for it to hang over the rim of the pan. Lightly fry the mewa in hot ghee. Remove and drain.
Boil water in pan, add rice and cook till done nine tenths. Heat ghee in a pan, add onions and stir over medium heat until translucent, then add the garlic and ginger paste, stir until the moisture evaporates. Now add the fried mewa along with the liquor, bring to a boil, remove, add the half of lemon juice and cardamom powder. Stir and adjust the seasoning.
Now boil six cups of water in a pan, add green cardamom and salt, stir, add rice, bring to a boil, reduce to medium heat, add the remaining lemon juice and continue to boil, stirring occasionally, until nine-tenths cooked. Drain, and keep aside.
Add the ginger juliennes, green chillies, coriander and saffron soaked in kewra jal on the rice. Spread the fried onions evenly, place a moist cloth on top, cover with lid and seal with dough. Now cook until steam starts seeping out of the dough. Remove and keep aside. Serve hot.