Games that sharpen your mind
Chennai-based organisation Kreeda has revived several traditional games to give children and adults an alternative to electronic entertainment and a means to bond,
writes Ambujam Anantharaman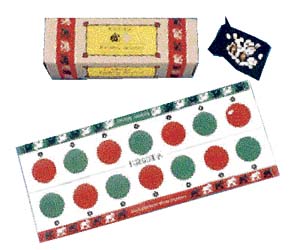 The ancient games which have got a new lease of life due to Kreeda's initiative include Pallanguzhi (cup and shell), Paramapadam (steps to the highest place) and Adu Puli Attam (goat and tiger).
— Photos by WFS
A concerted effort is being made by Kreeda, an organisation in Chennai, to revive the traditional games of India so that they do not die out. Through such efforts, Kreeda also hopes to give children and adults an alternative to electronic entertainment and a means to bond, while also exploring ways to use such games to teach, impart life skills and facilitate corporate training.
The Kreeda team is leaving no stone unturned in its initiative to research, document, revive and popularise traditional Indian games among today's youngsters, which it sees as the 'make or break generation'. "If the children and young adults of today do not become aware of these games and realise their manifold values, there is a real possibility that they will be lost forever," says Vinita Sidhartha(40), the promoter and brain behind Kreeda (meaning 'play' in Sanskrit).
Games that have got a new lease of life due to this initiative include Pallanguzhi (cup and shell); Paramapadam (steps to the highest place); and Adu Puli Attam (goat and tiger). While the first game involves moving shells or stones from one 'cup' to another in a wooden frame and improves motor skills, the second is a board game in which a dice is rolled and players progress to the higher numbers. This game has proved valuable in teaching mathematics.
The third—Adu Puli Attam—is a strategy game, needing skill, concentration, analysis, anticipation and planning. In this game, the opponents' strength has to be assessed and both defensive and offensive tactics have to be employed. It can be played by two people or two teams. According to the rules, the tigers have to kill the goats, while the goats have to encircle their predators. Interestingly, Adu Puli Attam is popular with corporate houses during training sessions.
Premalatha (55), Principal, Mahatma Gandhi School, Madurai, says that at her school they use Paramapadam and Pallanguzhi to teach mathematics to children between the first and the eighth grade. "Apart from simple arithmetic, complex concepts like fractions, integers and even probability can be picked up," says Kreeda's Vinita. In a bid to ensure that the games become a part of mainstream teaching, the school authorities recently organised a workshop for teachers. The workshop focussed on using traditional games for making classwork enjoyable. The school also held a carnival for children and grandparents with the theme, 'Forgotten Games', in order to help them bond.
Hyderabad-based Rama Badam recently bought Pallanguzhi. Not having played such games during childhood, Rama as well as her eight-year-old daughter soon became totally hooked on the game. Now, the duo prefers spending their free time playing Pallanguzhi together rather than watching TV or going out.
In fact Rama was so impressed with this traditional game that when she organised a theme party for her daughter's birthday, she bought traditional games for the party and as give-away gifts. "Strategy, motor skills, creativity and knowledge—all these things improve by playing the games. I wanted to introduce culture to children in a way that they can enjoy it," she smiles.
The traditional games also have other interesting uses. For example, Pallanguzhi, besides being a great way to strengthen mathematical concepts, is an excellent braille game as it involves 'touching and feeling', reveals Vinita. In fact, the Kottakkal Arya Vaidyashala, an ayurveda centre, even prescribes the game to improve arthritis.
Vinita has received plenty of positive feedback from clients on her endeavour, which she started almost four-and-a-half-years ago. She recalls how a widow from Singapore telephoned her especially to tell her that Pallanguzhi had helped her fill the long lonely hours after her husband's death. Another senior citizen from the US sent her an e-mail saying that he did not know ways in which to engage his grandchildren until he came across these traditional games in a store in Chennai and brought them back with him.
Incidentally, Vinita decided to focus on this aspect after seeing her octogenarian grandmother have a great time playing these games with her young grandchildren.
In fact she found out about many games mainly by talking to the elderly. This research is on-going. Interestingly, she and her team found that similar games are played in other parts of India, of course, with different rules. For instance, in Andhra Pradesh, Pallanguzhi is called Vamanaguntulu and Adu Puli Attam is Bhagbakri. Similarly, Dayakattu of Tamil Nadu is Chaupad of North India.
To make the games contemporary and competitive, Kreeda has taken the most exciting rules from the different variations and formed its own set of rules for each.
After the rules are drafted, the design, colour schemes and gaming elements such as coins, dice and so on are finalised. Every stage goes through a rigorous process of testing by the children.
Under-production games are given to children in neighbourhood schools and feedback is sought.
Once finalised, the games are packaged in eco-friendly material, keeping an eye on easy use and reuse. They are priced at affordable rates for customers from different economic backgrounds. Pallanguzhi, for instance, is priced between Rs 50 and Rs 500, depending on where it is stocked. Adu Puli Attam costs Rs 200. The games are available at bookshops and can also be ordered online at www.kreedagames.com. According to Sheela (46) of Kreeda, there is a wide variety of indoor games from which to choose, such as Puliangottai (a tamarind seed game for motor skills); Chirmi (a seed and sand game); Kalanay Belanay (facilitates colour coordination); Kattam Vilayattu (uses the tic-tac-toe strategy); and Nakshatra Vilayattu (with the five-pointed star). Some of the outdoor games on sale are Pandi, Gilli Danda and Bambaram.
Interestingly, the games also help go-getter executives climb the corporate ladder. Many leading companies, including Microsoft, ABN Amro, Orchid Chemicals, ING Vysya and Tata Consultancy Services (TCS), now make use of these games for their staff, either for leadership training or as 'de-stressers'.
Others have another unique use for these versatile games. Ravi Viswanath (43), vice-president and head of Chennai operations, TCS, reveals that the company uses these games to showcase Indian culture to foreign clients. When demonstrations are organised with the help of the Kreeda staff, "many start playing and remark that the games stimulate the thinking capacity". At times, they end up buying them to take back home. — WFS