Monday, December 24, 2007, Chandigarh, India
Updated at 3:00 am (IST)

Lotus blooms in Gujarat
Modi steers BJP to 4th win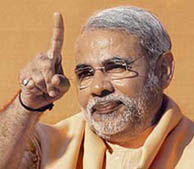 Ahmedabad, December 23
Riding on the crest of a popular wave, Chief Minister Narendra Modi today swept the BJP to power in Gujarat for an unprecedented fourth consecutive term, shattering the Congress dream of staging a comeback in the state after 12 years in the wilderness.

Edit: Rise of Narendra Modi
Gujarat Verdict page


BJP celebrates new undisputed hero


Modi to take oath on Dec 27


Poll pundits take a beating
& more stories
Analysis
It's mandate Modi
Mumbai, December 23
During campaigning for the just-concluded assembly elections in Gujarat, some of Narendra Modi's closest supporters compared him to Indira Gandhi taking on the Congress syndicate in the 1960s. Like her, Modi fought alone. And like her, Modi banked heavily on his personal charisma with some support from American presidential-style campaigning to romp home victorious.