M A I N N E W S
Maya expects to be PM after next LS polls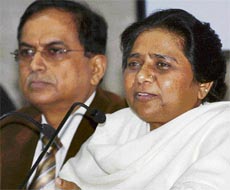 Uttar Pradesh Chief Minister Mayawati addressing a press conference at her Kalidas Marg residence in Lucknow on Monday. — PTI
New Delhi, December 24
Mayawati expects to become the Prime Minister after the next general elections.
"I expect the Bahujan Samaj Party (BSP) under my leadership to take charge of governance in India," she said in an interview to Hong Kong-based CFO Asia magazine.
"Chances are bright for the BSP to catapult to power under my leadership," the 51-year-old leader said on being asked whether she would play a "central role" in the formation of the next government.
The Uttar Pradesh Chief Minister preceded her remarks saying she proposed to "repeat the UP experiment" of securing the support of both Dalits and upper caste Hindus along with minorities under her banner in all major states.
"I am putting in the hard work to shape the party into a pan-Indian political force with a distinct identity...I am busy evolving a working understanding with politically active regional groups that would be valued partners in my campaign," she said.
Asked whether it was possible to balance the aspirations of upper and lower caste people, she said there was no contradiction in balancing aspirations of people from different strata of society.
"The upper caste Hindus know that their interest lies in lending support to us (Dalits). In politics, the Dalits are willing to accommodate the high caste Hindus. We are trying to make the Dalits understand that divisive politics practised by the UPA and the NDA are not in their favour either," she said. — PTI