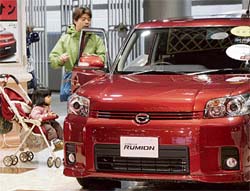 A customer checks Toyota Motor's Corolla Rumion at the company's showroom in Tokyo on Tuesday. Toyota raised its sales forecast for 2008 and confirmed it expects to overtake US rival General Motors this year to become the world's top automaker in terms of production. Toyota said it expects to sell 9.85 million vehicles next year, up 5 percent from 2007 and higher than a previous target of 9.8 million. — AFP photo
Reliance Retail eyes $5 b turnover by 2011
Bangalore, December 25
Reliance Retail is eyeing a turnover of around $5 to 5.5 billion in home durables, including consumer electronics, telecom and home IT across all its formats by 2011, its top official said today.
Reliance Money world's cheapest brokerage Co
New Delhi, December 25
Anil Ambani group's Reliance Money today said it has become the world's most cost-effective broking company in the world, despite India being dubbed among the most expensive markets in terms of transaction costs.
Petro dealers asked to pay tax on evaporation losses
Ludhiana, December 25
Petroleum dealers in Punjab would now have to reverse Input Tax Credit (ITC) on evaporation losses as well. The Excise and Taxation Department, after scrutiny of returns filed by dealers for the past two financial years, has sent notices to the petroleum dealers across the state stating that they had violated the VAT Rules and have been asked to reverse ITC for 2005-06 and 2006-07.


Canon, Hitachi, Panasonic form alliance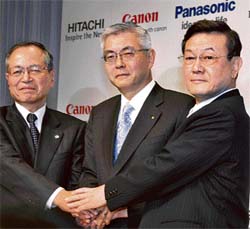 Presidents of Japanese electronics companies (L-R), Tsuneji Uchida of Canon, Kazuo Furukawa of Hitachi and Fumio Otsubo of Matsushita Electric Industrial shake hands as they announce the formation of an alliance for developing LCD panels, in Tokyo on Tuesday. The three companies will merge their strengths to accelerate the development of cutting edge display technology. — AFP photo
ONGC-Mittal JV wins gas blocks in Trinidad, Tobago
New Delhi, December 25
Steel baron Lakshmi N Mittal's joint venture with ONGC Videsh Ltd has won an exploration block with estimated gas reserves of two trillion cubic feet (tcf) in Trinidad and Tobago.
Hunt begins for Air India chief
New Delhi, December 25
The government has begun search for a new head of National Aviation Company of India Ltd, which runs the merged Air India, almost three months ahead of the end of incumbent chairman and managing director V Thulasidas' tenure.
Anil pips Mukesh in creating investors' wealth
Mumbai, December 25
Mukesh Ambani, the richest Indian and head of market leader Reliance Industries, was not the leading wealth creator for small investors in 2007, but was pipped for the top spot by younger brother Anil.
Fiji may import sugar from India
New Delhi, December 25
India, the world's second-largest producer of sugar, may export 25,000 tonnes of the sweetener to Fiji as the island nation seeks to import the commodity to bridge the shortfall in its domestic production.
ONGC to supply gas to Tripura power unit
Agartala, December 25
The Oil and Natural Gas Corporation (ONGC) has agreed to supply natural gas for the proposed 104 mw gas based thermal project at Monarchak in West Tripura district, power minister, Manik De said today.
ICA seeks zero duty on mobile handsets
New Delhi, December 25
Pointing that unprecedented appreciation of rupee against dollar has made domestic industry non-competitive against imports, the Indian Cellular Association (ICA) has urged the government for zero duty, zero VAT and a special GST rate, as and when introduced, for mobile cellular industry.
IIFCL to lend Rs 1,800 cr to Mundra project
New Delhi, December 25
State-owned India Infrastructure Finance Company Ltd (IIFCL) has sanctioned Rs 1,800 crore to the Tata Group-promoted Mundra Ultra Mega Power Project (UMPP) and is planning to extend Rs 1,000 crore credit to the Sasan power project, being developed by Reliance.
HC ruling to benefit UP sugar mills: Analyst
Mumbai, December 25
The Allahabad High Court's ruling will help sugar mills in Uttar Pradesh as it gives them tax and interest related benefits, an industry official said here.
'Tata-Corus deal among Asia's best for 2007'
New Delhi, December 25
Tatas' Corus takeover, ICICI bond issue and Hutch-Essar sale to Vodafone have been named as Asia's top three deals for 2007 by an Economist Group publication.
GBN to invest Rs 500 cr
New Delhi, December 25
Global Broadcast News Ltd (GBN), which broadcasts news channels CNN-IBN and IBN7, today said it will invest Rs 500 crore for an entertainment venture with US media group Viacom and launching a slew of regional news channels.
India Inc wants cut in excise duty on cars
New Delhi, December 25
India Inc has prepared its wish-list for the 2008-09 budget which include reduction of excise duty on motor cars, abolition of the Minimum Alternative Tax (MAT), removal of surcharge on corporate tax and review of the Fringe Benefit Tax (FBT).
Asia's oldest iron plant reopens
Kulti (WB), December 25
Asia's oldest iron plant Kulti Works today restarted operations, after remaining closed for more than four years.

Videos
Indian insurance sector at boom.
(56k)
Marriage invitation cards attract big money.
(56k)
2007: Business highlights.
(56k)