Taking anxiety to task
A majority of Indian CEOs fail to counter stress, says a survey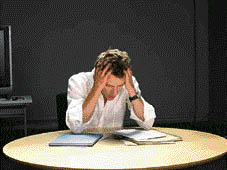 Corporate India executives may be adept at managing businesses, but a majority of them are inept at handling stress, says a survey by Assocham.
The study by the industry body found that 68 per cent of Indian CEOs, managing businesses with a turnover exceeding Rs 1,000 crore, were unable to beat stress and other related diseases.
In its report on 'CEOs Ways to Manage Stress', Assocham said of the 400 Indian CEOs surveyed, only 32 per cent succeeded in countering stress and fatigue through yoga, sports, morning stroll and music.
"CEOs in the age-group of 50-65 take time off in the morning for yoga and prefer to play golf, visit hill stations and parks to overcome their day to day stress and fatigue," Assocham President Venugopal Dhoot said in a statement.
The report observed that younger CEOs in the age group of 30-45 are more health conscious as compared to those in the age group of 50-65.
"Going to the gym motivates and inspires the younger CEOs to handle pressure and encounter stress and fatigue," it said.
A lot of pressure generates as the CEOs set ambitious targets for themselves within a time-bound period, Dhoot said.
However, young entrepreneurs are now choosing a new way to overcome the stress by watching movies with close ones, listening to music and driving, Dhoot said.
"Over 40 per cent of the CEOs are taking to ayurvedic treatments like naturopathy, massage, acupuncture and acupressure," Assocham said, adding that metros and towns in the coming 5-6 years would have huge ayurvedic centres for treating stress related disorders. — PTI