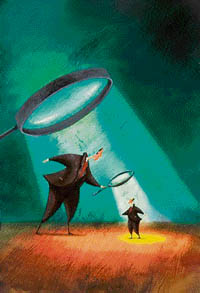 The intensifying competition and unprecedented number of business deals in the India Inc has led to private detectives playing a bigger role in the corporate alley.
The detective agencies call it "corporate intelligence" and say it has become a necessity in the business world where companies routinely track their rivals' products and services, keep an eye on their employees and even prospective alliance partners or takeover targets.
"The scenario in our country is very encouraging. With all the valid reasons, corporate intelligence is gaining prominence in the variety of services that we offer," Central Association of Private Security Industry in India (CAPSI) and Association of Private Detective Agencies in India (APDI) head Kunwar Vikram Singh said in New Delhi recently.
While select few cases of under-cover spying such as for seeking details of a yet-to-be launched product and salaries of the top management people have been around for quite some time, the idea of corporate intelligence for not-so-discreet details is no more a secret and is being talked about openly.
The detective agencies dealing in this area say that there are primarily three kinds of corporate intelligence in India -- a company gathering competitive intelligence such as information on a firm's product, strategy and human resources, monitoring the employees before and after joining an organisation and due diligence before a joint venture, partnership or other business deals.
Pune-based forensic accounting and fraud investigations firm Indiaforensic Consultancy Services Director Pradeep Akkunoor said they advise clients on risks associated with protecting their business secrets and performing due diligence checks, which, at times, veers into the thin line of ethical and non-ethical issues.
"Yes, we do take such assignments from our clients but only in certain cases like performing due diligence on behalf of an investor. We do not provide any service of gathering competitor data covertly," said Akkunoor, who himself is a Certified Fraud Examiner.
"In an ever-evolving business environment, success or failure, to a great extent, is determined by the information available about the environment, competition and the business," says the website of Lancers, a private detective agency dealing in corporate intelligence.
"We assist our clients by providing intelligence and analysis of a client's prospective market, key competitors and their own operations in India. Our corporate intelligence services include pre-joint venture due diligence, vendor verification, political analysis, geo location risk analysis of market and competitors' prospects," it adds.
However, the methods employed should be legal and ethical, they opine. "Means such as phone-tapping or paying-off a rival employee to pass information should not be done. The law of the land must be respected," CAPSI and APDI Secretary General Captain Ravee says.
The private detectives hope that more professionalism will come in corporate intelligence with time as the sector was growing fast.
"Our sector is not organised and many clients use corporate intelligence out of sheer interest and business compulsions but the scope and ambit of this is expanding qualitatively," Captain Ravee adds. — PTI