Trim the fat on the resume
Mary Ellen Slayter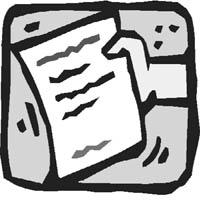 Erin Greenley recently graduated from college and is looking for an entry-level job in a biology lab.
The most important information on a resume should be at the top, says Brad Karsh, president of Job Bound and author of "Confessions of a Recruiting Director: The Insider's Guide to Landing Your First Job."
"In Erin's case, I doubt her experience at Barnes & Noble is her most relevant and marketable experience," Karsh says. Everything on this resume needs to speak to a recruiting director at a biological science laboratory. "Instead of a section called Experience and another called Research and Projects and another called Laboratory and Computer skills and yet another called Activities, create two sections: Experience and Activities.
"In the Experience section, list the five or six most relevant and compelling experiences, regardless of whether they were paid or not. In Erin's case, I'd include some of her research, some of her lab work, and even a few of her activities.
"Within the Experience section ensure that all the bullet points are accomplishments instead of just job descriptions. For instance, under the B&N job she lists 'provided quality service to customers.' This point means nothing to the reader. In fact, every sales associate at B&N — or any retail establishment in the entire worldwide history of retail establishments — provides quality service to customers."
She should instead focus on her accomplishments. "She actually did a nice job with this in her activities section where she quantified her results," Karsh says.
Greenley also needs to pare down her resume to one page and cut anything that doesn't speak to her unique qualifications, Karsh says. References go on a separate page. "I'm quite confident that every college grad knows Word, PowerPoint and Excel."
— LA Times-Washington Post