Fortnightly Quiz-300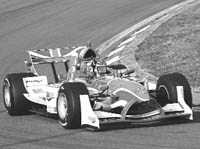 1 Name the major industrialised nation of the world that has so far not ratified the Kyoto protocol.
2 Name the CEO of America's largest bank Citigroup.
3 At the confluence of which rivers is the Harike wildlife sanctuary situated?
4 Name the first-ever Indian firm to enter the Fortune magazine's list of the world's most admired firms of 2007.
5 Who recently became the oldest monarch, overtaking Queen Victoria?
6 Who will be the new managing director of Maruti
Suzuki India?
7 Name the spectacular 20-km narrow gauge line in Maharashtra that has been shortlisted by UNESCO for inclusion on the
Heritage List.
8 Name the world's longest human-made structure stretching over 6,700 km.
9 Which weekly traditional 40-minute ceremony at Rashtrapati Bhawan, involving Army guards and President's bodyguards, was recently thrown open to public viewing?
10 Name the FIFA World Player of 2007.
11 What is India's FIFA ranking at the end of year 2007?
12 Expand IPL.
13 Which team won the inaugural ICL Twenty 20 tournament?
14 After how many years did India recently win cricket
Test series at home against Pakistan?
15 Who recently led India to its first A1 Grand Prix victory?
Name................
Class..................
School address..........
Winners of quiz 299: The first prize by draw of lots goes to Ishan Dutta, VI, DAV School, North Oak, Sanjauli, Shimla-171006. Second: Birinderpal, IX-C, Government Model Sr Sec School, 37-D, Chandigarh-160036. Third: Naval Sweet Bhullar, 8th Rose, Baba Farid Public School, .
Answers to quiz 299: Joachim and Violet Alva; Gen Ashfaq Kiyani; Taslima Nareen; December 1; 128; China; Bombay; Labour Pary; Jatropha; National Rural Employment Guarantee Act; Nathu La; Lakshmi Mittal; Dual-Core Power 6; 239; Muttiah
Muralitharan
Cash awards of Rs 400, 300 and 200 are given to the first, second and third prize winners, respectively. These are sent at the school address.
Note: Kindly mention the pincode of your place to facilitate the delivery of the prize money.
Answers can also be sent at quiz@tribunemail.com
— Tarun Sharma