Modi symbolises aggressive Hindutva
Ahmedabad, December 25
Narendra Modi, who assumed reins of power in Gujarat for the third consecutive term today after single-handedly stymying the Congress challenge, symbolises aggressive Hindutva that could catapult him to the centrestage of the BJP.
New Delhi, December 25
Prime Minister Manmohan Singh and top BJP leaders were among the first to greet former Prime Minister and patriarch of the saffron Party Atal Bihari Vajpayee on his 84th birthday at his residence here today.

Prime Minister Manmohan Singh wishes senior BJP leader and former Prime Minister Atal Bihari Vajpayee on his 84th birthday at his residence in New Delhi on Tuesday. — Tribune photo by Manas Ranjan Bhui
She represents Jesus Christ for the backward
Patna, December 25
On Christmas, she truly represents Jesus for the most backward among the Dalits in Bihar, poor Musahars.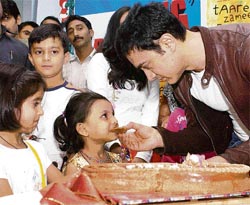 Amir Khan celebrates Christmas with children at an FM radio station in Mumbai on Tuesday. — PTI
Army doc couple's hearts warm at Nathu La
Nathu La (Sikkim), December 25
Placing love for the country above everything else, a young married couple from the Army Medical Corps, staying 40 km apart, tends to patients in the cold harsh terrain on the Sino-Indian border.
Defence funds remain unspent under shadow of past scams
New Delhi, December 25
Modernisation of the armed forces suffered as Rs 21,000 crore remained unspent in the past five years with procurement deals slowed down by past controversies about defence kickback.
Woman, sons beheaded in UP
Lucknow, December 25
A woman and her two sons were decapitated by unidentified assailants in Etawah district of Uttar Pradesh. The police today said the killings could be a result of a fierce land dispute. However, no one had been named in the FIR so far.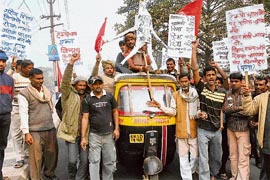 Auto-rickshaw drivers demonstrate with effigy of Bihar Chief Minister Nitish Kumar in protest against charges of parking vehicles in no parking zones during their three-day strike, at Anishabad in Patna on Tuesday. — PTI
'Arrest on yet-to-be established charges wrongful'
Law Commission for change in CrPC provision
New Delhi, December 25
The Law Commission has asked the government to abolish a criminal law provision which requires a person seeking anticipatory bail to be present in the court and that he can be arrested on the spot if his plea is rejected.
UP Serial Blasts
Two more arrested from Doda
New Delhi, December 25
In a joint operation, the police of Uttar Pradesh and Jammu and Kashmir today arrested two suspected militants of the Harkat-ul-Jehadi Islamia (HuJI) from the Doda area of Jammu in connection with last month's serial blasts in three court premises in Uttar Pradesh.
187 Christians embrace Hinduism on Xmas
Rourkela, December 25
On Christmas, as many as 187 believers were today converted to Hinduism at a function organised by the Vishwa Hindu Parishad in Orissa.
Fresh warrant against Kamal Nath
Bhopal, December 25
A local court has issued a fresh bailable warrant against union commerce and industry minister Kamal Nath, asking him to appear as a witness in a case wherein two persons had allegedly used his fake letterheads for seeking promotion at the Bhopal Development Authority (BDA).
'Affluent families indulging in female foeticide'
New Delhi, December 25
Affluent families in posh areas of the country's metropolises are routinely indulging in female foeticide to fulfil their quest for a male child, according to latest government figures.
Indo-Nepal Track
India to construct cross-border rail links
New Delhi, December 25
India is finally responding to a wake-up call from China and would be constructing its first-ever cross-border rail links with Nepal.
Naval meet: No word from Iran, Pak
New Delhi, December 25
Navies of Iran and Pakistan are yet to confirm their participation in Indian Navy's initiative to hold a regional interactive conclave in February next year.
Kerala allots fresh land to ISRO
Thiruvananthapuram, December 25
In the wake of reports that the Indian Space Research Organisation has rejected the 100 acres of land at Thenur near Ponmudi for setting up the Space Institute, the Kerala Government today proposed an alternative allotment of 70 acres of land near Valiamala.
Gujjars to meet Sonia on ST status
Jaipur, December 25
A delegation of the Gujjar Reservation Joint Action Committee (Gunjal) and the All-India Gujjar Mahasabha will meet Congress President Sonia Gandhi to urge her to declare her party's stand over the Gujjar community's demand of ST status.
Irked film crew on fast after removal of scene
Chennai, December 25
Apparently irked over the censor board's decision to delete a 'jallikattu' (bullfight) scene from the Tamil film 'Mirugam' (Animal), the movie crew went on a fast here today opposing what they called as a "ban on depicting jallikattu in Tamil cinema."
4 cops among five hurt in ULFA blast
Guwahati, December 25
Five persons, including four Assam policemen and a civilian driver, were injured when suspected United Liberation Front of Asom (ULFA) militants tried to blow up a vehicle carrying a Sub-Divisional Police Officer (SDPO) near Sonari in Sivasagar district of Upper Assam today.
De-boarding drama at Ahmedabad airport
Ahmedabad, December 25
High drama was witnessed at the airport here today when nearly 100 passengers of a Delhi-bound Air India flight from Mumbai, diverted here because of fog in the Capital, refused to de-board after the pilot declined to fly the plane citing duty-hour limitation.
Diverted Air India flight leaves for Delhi
Mumbai, December 25
A New Delhi-bound Air India flight (IC 806), which left the Mumbai airport this morning and was diverted to Ahmedabad due to fog, has now left for the national capital, official sources said.
Fog hits air traffic
New Delhi, December 25
Foggy conditions on Tuesday affected flight operations at the airport in New Delhi, affecting the schedule of a large number of travellers.
Cop suspended for raping girl
Pratapgarh, December 25
A policeman was today suspended for criminally assaulting a teenaged girl at police station compound here.



Videos
India welcomes Christmas with hope and gaiety.
(56k)
A B Vajpayee celebrates his 84th birthday.
(56k)
2007 was the year of political upheaval in India.
(56k)
Riteish to play Aladdin in an upcoming flick.
(56k)
2007: Year of controversies for Bollywood.
(56k)