Former Prime Minister and chairperson of the Pakistan People's Party (PPP) Benazir Bhutto was assassinated on Thursday by a suicide gunner who later blew himself up with a powerful bomb blast that killed at least 20 other persons at Liaquat Gardens in Rawalpindi after she addressed an election rally.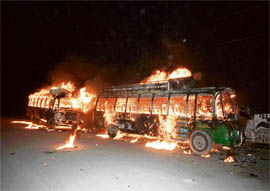 Buses burn after they were set ablaze by supporters of Benazir Bhutto in Hyderabad, 160 km from Karachi on Thursday. — Reuters photo
The gruesome assassination of country's main opposition leader plunged the country into deep grief and political uncertainty about 12 days ahead of general election set for January 8. The grim tragedy stunned the nation and sparked violence by angry supporters across the country.
(According to PTI, five bullets were fired, one of which pierced her neck. Several people who were around her car were blown to pieces. A TV reporter at the scene said the suicide bomber's head was found almost 70 feet from the site of the blast.
(Eyewitnesses said body parts were strewn across the area. Ambulances rushed the injured from the spot to nearby hospitals.)
Bhutto was leaving the meeting place when a gunman fired at her just as she waved to people and ducked climbing into her car, her spokesman Farhatullah Babar said. The gunman then blew himself up with a powerful device.
She was rushed to the hospital with bullet wounds on head and neck. A surgeon operated her but she succumbed to injuries, hospital authorities later announced. Party workers wept and smashed hospital's glass doors and started fires around the hospital. As news of her death spread in the city and other parts of the country people closed shops and offices while enraged supporters went about burning and smashing everything that came their way.
PPP leaders, including vice-chairman Makhdoom Amin Fahim, information secretary Sherry Rehman and senator Safdar Abbasi, also reached the hospital. Her spouse Asif Ali Zardari was due to reach Islamabad late after midnight. Party sources said Bhutto's body would be taken to Larkana where she would be buried alongside her father who was executed in 1979.
This was the second attack on her life since her return after 11 years of exile on October 18 when she received a tumultuous welcome by hundreds and thousands of people but escaped a huge bomb blast while leading a procession a few hours after her arrival that killed over 160 persons and wounded hundreds others.
Bhutto inherited charisma of her father Zulfiqar Ali Bhutto and a traumatic series of tragedies in the family. Her father and former Prime Minister was executed by military dictator Gen Zia-ul Haq in 1979, younger brother Shahnawaz Bhutto was found dead in mysterious circumstances at a very young age in a Paris apart while another brother Murtaza Bhutto was gunned down by the police in 1996 before she was also ousted as Prime Minister.
Former Prime Minister Nawaz Sharif, who was close to Rawalpindi addressing an election rally, suspended all his activities and rushed to the hospital where he condoled with PPP leaders. "I stand by the PPP in this grimmest tragedy," Sharif said.