PUNJAB

HARYANA

JAMMU & KASHMIR

HIMACHAL

REGIONAL BRIEFS

NATION

OPINIONS

MAILBAG

BUSINESS

SPORTS

WORLD
Sunday, December 30, 2007, Chandigarh, India
Updated at 3:00 am (IST)

Islamabad, December 29
Ruling out a probe by international bodies into the assassination of former Premier Benazir Bhutto, the Pakistan Government today offered to exhume her body to conduct an autopsy to settle a controversy over how she had died.
There was a bullet wound in the back of her head and it (the bullet) was (powerful) enough to come out from the other side. — Sherry Rehman, Bhutto's spokesperson


Nation page: India keeping close watch


World page: PPP to choose Benazir's successor today


| | |
| --- | --- |
| | Daughters of Pakistan's former Prime Minister Benazir Bhutto, Bakhtawar (right) and Asifa (centre), visit their mother's grave with Bhutto's sister, Sanam (left), and their brother, Bilawal (second from left on top), in Garhi Khuda Bakhsh, near Larkana, on Saturday. — AP/PTI |
Pak channel airs photos of two suspects
Islamabad, December 29
A Pakistani TV news channel today aired photographs of two men, which it said were involved in the assassination of former premier Benazir Bhutto after an election rally in Rawalpindi on Thursday.
CAST YOUR VOTE
Are you worried about criminalisation of politics?




CHANDIGARH

LUDHIANA

BATHINDA

JALANDHAR

DELHI

HIMACHAL PLUS

HARYANA PLUS

AMRITSAR PLUS

LIFESTYLE

BRIDES WANTED

GROOMS WANTED

OTHERS

HOW TO PLACE ADVTS
HOROSCOPE
Pak elections: EC to decide tomorrow
The Election Commission (EC) of Pakistan will hold a crucial meeting on Monday amid indication that it is considering postponement of elections scheduled for January 8.
2 Patiala brothers shot dead in California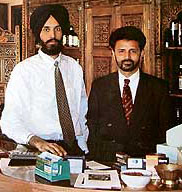 Two Sikh brothers were gunned down in their Indian restaurant in Richmond, California, on Thursday night in a random act of violence that left the police baffled. Ravinder and Paramjit Kalsi, who immigrated to the United States from Patiala in 1997, were killed just after 9 pm when they were closing Sahib India Restaurant.
A file photograph of Paramjit Singh Kalsi and Ravinder Singh Kalsi in California.

World page:


2 Indian-origin brothers mauled by tiger


Missing India-born woman alive: US authorities
| | |
| --- | --- |
| | |
| | HARYANA: Warring leaseholders 'reach pact' |
| | HIMACHAL: Dhumal is BJP legislature party leader |
| | |
| | CHANDIGARH: Sec 17 losing trees to pilferers |
| | LUDHIANA: 5-yr-old sodomised, killed |
| | |

E - Revolution 2005:
A Two-day IT conclave

Assembly Elections - 2005

Turbans

Chandigarh is 50

125 Years of The Tribune
India: The Tasks Ahead

EARLIER FEATURES
Taslima should be sent back: Idris Ali
Kolkata, December 29
A day after an influential Muslim cleric stiffly opposed Bangladeshi writer Taslima Nasreen's return here, the leader of a minority forum demanded that she should be returned to her own country 'with honour'.
Militant behind UP, J&K blasts held
Kolkata, December 29
Altab Aslam, a terrorist belonging to the Hizbul Mujadhideen, was arrested today from a hideout in the Baranager area in North 24 parganas, near Kolkata.
Nithari remembers its children
Noida, December 29
One year after the Nithari killings came to light, the infamous D-5 bungalow is a desolate place, much in contrast to the large crowd that had once gathered here, drawn by news of the shocking uncovering of the sexual abuse and murder of children.

31 pc MLAs Facing Criminal Cases
HP House: High on crime, low on education
Chandigarh, December 29
High on crime, low on education - that's what many legislators of the newly elected Himachal assembly are. While 21 out of 68 assembly members (31 per cent) have criminal cases pending against them, some as serious as kidnapping, 11 MLAs (16 per cent) have not even completed their schooling.
In Spectrum today
Benazir gets peaceful burial
December 29, 2007

Benazir Bhutto assassinated
December 28, 2007

Fresh violence in Orissa
December 27, 2007

It's usual blame game at Jor Mela
December 26, 2007

I'm not bigger than party: Modi
December 25, 2007

Lotus blooms in Gujarat
December 24, 2007

Modi or Cong? Results by 10 am today
December 23, 2007

54 die in Pak suicide attack
December 22, 2007

Left-wing extremism biggest test: PM
December 21, 2007
PM: No communal budgeting in Plan
December 20, 2007