M A I N N E W S
Mystery deepens over Bhutto's death
Govt offers to exhume body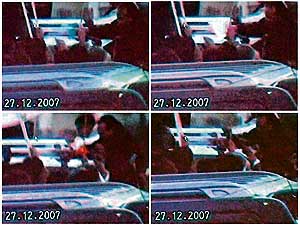 This combination photograph of TV grabs from footage released by the Pakistan interior Ministry shows (clockwise from top left) a sequence of shots fired near former Pakistan Prime Minister Benazir Bhutto's vehicle after an election rally in Rawalpindi. — Reuters photo

Islamabad, December 29
Ruling out a probe by international bodies into the assassination of former Premier Benazir Bhutto, the Pakistan Government today offered to exhume her body to conduct an autopsy to settle a controversy over how she had died.
Though the government had said that Bhutto died after hitting her head on a metal lever in her bulletproof vehicle during a suicide attack in Rawalpindi on Thursday, the former premier's aide Sherry Rehman today contended that she was shot in the head by the attacker.
"If there is any doubt, if Sherry Rehman says she has seen the bullet wound, we don't mind. If the Pakistan People's Party's leadership wants, her (Bhutto's) body can be exhumed and a post-mortem (can be done). They are most welcome but we gave you the facts," interior ministry spokesman Javed Iqbal Cheema told a news conference.
Cheema dismissed calls for an investigation by international bodies into the assassination.
"This is not an ordinary criminal matter in which you require the assistance of the international community. I think we are capable of handling it.
"This is an act of terrorism which has its own dynamics with links to Waziristan and our tribal areas. We understand our environment better than the international community. The Scotland Yard can't conduct an inquiry in Waziristan," he said.
Sherry Rehman, who was with Bhutto when the PPP chief was attacked by a suicide bomber, told PTI that there was a bullet wound at the back of Bhutto's head.
"There was a bullet wound at the back of her head and it (the bullet) was (powerful) enough to come out from the other side," she said.
Meanwhile, Al-Qaida leader Baitullah Mehsud, accused by the interior ministry of assassinating the former Prime Minister, denied through a spokesman about his involvement, emphasising that it is against their tradition to attack a woman.
"He had no involvement in this attack. This is a conspiracy of the government, army and intelligence agencies," spokesman Maulana Omar said in a telephone call.
The media was full of speculation about the perpetrators of the assassination and said several questions would be asked from the government about the security provided to Bhutto.
A retired Brigadier Shaukat Qadir propounded the theory that it was possible that a certain segment of the crowd was placed at the exit at Rawalpindi public meeting with instructions to chant slogans to a crescendo at a time when the assassin(s) was/were in position.
It was expected that Bhutto would inevitably respond by exposing herself through the sunroof of her car, thus offering the assassin(s) an opportunity to target her, he wrote in a newspaper column titled "Planning an Assassination".
Meanwhile, life began limping to normalcy in most parts of the country barring the volatile southern Sindh province where sporadic clashes continued in the aftermath of Bhutto's killing. — PTI