M A I N N E W S
Nithari remembers its children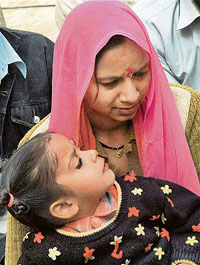 The mother of a victim of the Nithari killings at a function organised on the occasion of its first anniversary in Noida on Saturday. — PTI photo

Noida, December 29
One year after the Nithari killings came to light, the infamous D-5 bungalow is a desolate place, much in contrast to the large crowd that had once gathered here, drawn by news of the shocking uncovering of the sexual abuse and murder of children.
While no one was allowed anywhere near the bungalow, which was barricaded and guarded by policemen, the families of the victims performed a 'havan' in memory of the children near the infamous address.
Police had made elaborate arrangements, including posting a riot vehicle, and only the families of the victims were allowed to participate in the 'havan'. Exactly a year ago, skulls and other bones were recovered from behind the bungalow that later came to be known as the 'House of Horrors'.
The bones were those of children from Nithari village who had gone missing.
The owner of the bungalow, Moninder Singh Pandher, and his servant Surinder Koli, were arrested for the killings. The matter is being investigated by the CBI.
The families have, however, expressed dissatisfaction with the probe, charging the investigating agency with being soft on Pandher.
"The CBI is giving a clean chit to Pandher when he had initially confessed of having raped and murdering children," said Ram Kishan, a resident of Nithari, whose child was among the victims. — PTI