When Shilpa Shetty met Govardhan Brown
We the people are comfortable in our skins and going out to conquer the world with a chak de exuberance. The year is a watershed because it marks the coming of age of a nation which has become secure and comfortable in its maturity, writes Pratik Kanjilal
This is the first day of Resolution Week. The last week of December is when we look back on the year that is about to pass, smile languidly as we recall our finest moments, sigh maudlinly as we dwell upon what we might have done and been and turn beetroot red at the memory of what we actually did and had been. No more of that, we exclaim, sweeping the debris of the past aside with a small cry. Reaching for pencil, paper and steely resolve, we proceed in all seriousness to make our New Year's resolutions.
We shall quit our bad habits, watch what we eat, enrol in a gym, be kind to obnoxious acquaintances, keep our hands off the Playstation, perhaps even embrace the principles of the Eightfold Path. When it comes to making resolutions, we let nothing stand in our way. Next Monday, perhaps we shall be drunk, perchance even slightly disorderly. But that is only human and Tuesday will see us for the men and women we really are, steadfast in our resolution, unrelenting in our propriety, unbending in our rectitude.


Gordon Brown without the tika
But Wednesday, or perhaps Thursday, is another matter. Like the statutes of the CrPC, resolutions are made to be broken. They rarely survive the first week of the New Year. They are like children's wish-lists, made year after year in all innocence and broken with guiltless abandon.


Lakshmi Mittal: Piling up the pounds
But as 2007 draws to a close, perhaps we ought to say goodbye to all that and try to be a little more mature about our resolutions. Because, you know what, we've finally grown up. In the popular imagination, 2007 will go down in history as the year that Shilpa Shetty met Govardhan Brown. The ease with which the actress turned an instance of reality TV bitching into a race row that echoed around the world, or the sassiness with which the Hindu Forum decked out the Prime Minister of the UK in marigold garlands and a tika, took our breath away. In the meantime, Lakshmi Mittal, who has been the UK's richest resident since 2005 and hogged the headlines with the Arcelor deal in 2006, proceeded to signal his arrival in the traditional British manner — by buying into a football team.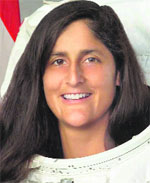 Sunita Williams conquered the skies

Sunita Williams went into space and also came down to her home state of Gujarat, which remains in serious need of its asmitas. Talented bathroom singer Sanjaya Malakar did not make it to American idolhood, but he is probably the only contender whose name everyone still remembers. And almost by the way, R.K. Pachauri picked up the Peace Nobel in Oslo. When all this happens in one year, you know you're looking at a turning point.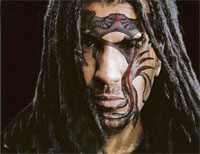 Apache Indian: Desi pride
India turned 60 this August, and this is a watershed year both for the nation and its people. In the case of a human, 60 usually brings up dark images of golden handshakes, pension funds, monkey caps, anxiety attacks, diabetes, vascular stents and gout. But a nation ages slower than its citizens. Sixty is about when it comes of age, and we all seem to be agreed that India has done that, leaving behind the playthings and fairy tales of its Nehruvian youth to go out into the world as a serious contender.
In 2007, the pulse of this new avatar of the nation was the Sensex, which surged up, up, impossibly up and away as though propelled by Superman's hand. Suddenly flush with funds, corporates large and small were out in the international marketplace, wheeling and dealing, flitting and sipping.


Ratan Tata: Corus of a winner


R.K. Pachauri did India proud with the Nobel Peace Prize
Ratan Tata led the pack through the year, from the Corus deal to the winning bid he made last week for the iconic Jaguar and Land Rover brands. Meanwhile, retailing came of age and it is not unusual to see an international apparel brand and atta from Punjab selling in the same supermarket. There are problems, of course — continuing farmer suicides and the flamboyant stupidity displayed by the Left in Nandigram — but for the first time since the initial wave of liberalisation, the economy is pulling the nation up to rather dizzying heights. And now that we're all old enough to resist the blandishments of our Harshad Mehtas and Ketan Parekhs, we can be fairly secure in the knowledge that a crash will not follow.
The nation is at the moment a bit more secure in the neighbourhood, now that President Musharraf is in mufti and has surrendered his little swagger stick, and the US seems to have clamped down firmly on Pakistan's nukes. Here at home, the Right to Information Act has empowered the people like never before, giving them the wherewithal to question almost any act of the government or of institutions. And for the first time in our 60-year history, a Prime Minister has come out and said what everyone had known all along — that it is unequal development and failure of governance that gives birth to separatism and insurgency. Perhaps now the much-celebrated 'trickle-down effect' of liberalisation, which has left some parts of the population remarkably thirsty, will be channelled more sensitively and happiness will be more evenly distributed.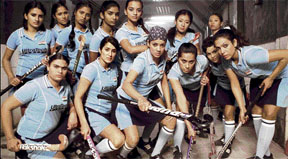 The do-it spirit in Chak De was a hit with all Indians
So, in more ways than one, India has become more mature, and secure and comfortable in its maturity. Happily enough, we the people also seem to have come of age at exactly the same time. The signs of change have been visible in the movies — our unofficial barometer of social change — for some time, at least since Lagaan, which struck back at the Empire on its own turf with the colonial hangover for a backdrop. The watershed came this August with Chak De India, a film about self-respect which does not need a caricatured external foe but concentrates its attention on the enemy within. The hangover has very obviously cleared up.
Incidentally, the ease with which we have embraced that turn of phrase, chak de, equally betrays an easy confidence, an openness of spirit that we did not have before. A phrase peculiar to Punjab, it was first introduced to the rest of the world — and, incidentally, to the rest of India — by the English bhangramuffin Apache Indian in the 1990s. And it had everyone in splits, because no one knew what it meant. That's how they say it in Punjab, Apache Indian explained, and that was regarded as funny too. The fact that poor, misunderstood Apache Indian pronounced it 'chokh there', which really means nothing on earth, may have contributed to the problem. For the first time in his life, the man even visited his grandmother in a Punjab village with a gaggle of reporters in tow, but even that was seen as a desperate bid for authenticity and he was wafted out of the country on gales of laughter.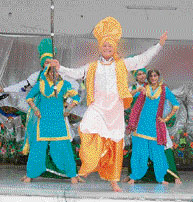 The world's dancing to balle balle
How times change. Today, most of India — indeed, much of South Asia — is unabashedly Punjabi and quite happy to be so. And a touch of Punjab is visible almost anywhere you go in the world. What's usually branded as 'Indian cuisine' overseas is in fact Punjabi cuisine, right down to the mattar paneer. True, it's cooked and served by Bangladeshis, but that doesn't matter because they've learned our Punjabi ways. In fact, they've taken them home too. In Dhaka, a city which was once justifiably proud of its home-grown cuisine, fine dining now means tandoori. The hilsa in mustard sauce and the chingrir malai curry are all very fine, but it's chicken tikka and tangri kabab that move hearts and minds.
In contemporary music, L. Subramaniam may fiddle away all he wants and insist he's one of the founders of fusion, but bhangra is the only Indian school of music to have acquired world status, having shared the mainstream stage with big names in pop, rock and rhythm and blues. Here at home, too, when the chips are down, bhangra takes the trick. You see any marriage processions dancing to Rabindrasangeet or folk airs from the Brahmaputra valley? No sir, it's balle balle all the way. And very, very quietly, the salwar kameez is relegating the formerly ubiquitous sari to the status of formal wear. The Punjabis' unwillingness to fall in line, to unabashedly do their own thing irrespective of public opinion, to make themselves comfortable no matter where they are, is catching. They have made us free to be ourselves.
So, where were we now? Ah yes, we were talking about the New Year's resolutions we are going to make this week. We digressed, but not needlessly so. Before you resolve to do something, it's useful to know who you are and where you stand. This year, we are on a watershed. So when we apply pencil to paper, maybe we shouldn't think just about our own little selves any more. We can afford to think big — about our neighbourhood, our community, even our nation. And instead of letting our resolutions crash in flames by next Wednesday, maybe we should take them seriously. Because now, anything is possible. As Sunita Williams has shown us, these days even the sky isn't the limit.
— Pratik Kanjilal is publisher of The Little Magazine