Fair way to make waves
There were many proud moments for women who have made a mark in all spheres — from politics to business to economics and administration, writes Vimla Patil
Yet another year of the new century is about to close in a few days, and, as usual, observers of the social and economic scene in India are busy wrapping up the year's gains and losses—especially for Indian women, who most certainly form one of the fastest changing communities in the world today.
More Indian women are working to earn their own incomes than ever before. "The last five or six years have seen fantastic economic growth in India," says Neela Mehta, a fund house manager.

Sonia Gandhi: Steering the country
There is a new consistency and sustainability in the marketplace and women are taking full advantage of this. At least in urban India, women seem to have forgotten their earlier insecurity in employment, in ownership of assets, in building their personal wealth and in their position in society and family. They are confident decision-makers in their homes as well as at their workplaces. Millions of women are in the employment market. India has not only one of the largest female workforces in the world but also has the second highest number of women entrepreneurs.
The picture in rural or small town India is also changing at a faster rate than before. Banks offer small and big loans to women to achieve a better life. One drive into the countryside shows that college girls in rural areas now carry cell phones and walk to their destinations with more confidence and self-assurance. Though crimes against women have increased, there is more security and more progress whenever women find their path to progress.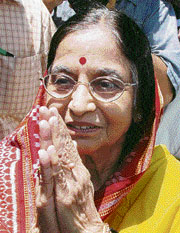 Pratibha Patil: Finally a woman occupies the highest office in the land
First and foremost, the year is to be marked with gold letters in the history of Indian women because the first lady President, the constitutional head of the nation, was elected this year. Pratibha Patil, a quiet politician of the Congress Party, who has held several assignments for decades, finally achieved the highest office of the nation by reaching the Rashtrapati Bhawan in Delhi. This, in addition to the fact that last year, the US Forbes Magazine nominated Sonia Gandhi, the president of the Congress, as the third most powerful woman in the world. Yet another woman who made scintillating news in politics was Mayawati, who swept the polls in Uttar Pradesh and then trained her eyes on the whole of India by holding massive rallies in Delhi, Mumbai and other prominent cities. Mayawati's phenomenal win in the state elections meant that a woman can now count on achieving the highest power even in states which are notorious for their macho attitudes. Sheila Dixit, Vasundhara Raje Scindia, Jayalalitha, Mamta Bannerjee and many others held on to their political leadership and made waves for one reason or the other.
In the economic sphere, too, Indian women marked the pages of recent history during 2007 with golden dots. Rani Jadhav, a quiet, reticent woman from the IAS, took office as the first-ever chairperson of India's biggest port authority—the Mumbai Port Trust—proving that an Indian woman can handle a volatile job with total efficiency. cent of the seats in all local bodies and municipalities for women. According to UNICEF reports, this ensures that Indian women are able to participate in civic governance and innovate sure-fire methods to ensure a better life for rural communities, especially women and children. The 33 per cent reservation of seats for Women's Bill is pending in Parliament and most probably will come up for final voting in the near future.


Indira Nooyi: One of the most powerful women in the world
Admitting over one million women into the sphere of governance has been hailed as India's pioneering experiment, the first of its kind in the world. It is hoped that in time, this would not only bring about faster change in the sprawling countryside of India, but also improve the representative structure of Parliament. In other fields too, Indian women have notched international successes in other fields too. Indira Nooyi, CEO of Pepsico has been named one of most powerful women in business. Nearer home, Kiran Muzumdar Shaw of Biotech has been named the richest woman in India. Sulajja Firodia Motwani is the managing director of Kinetic Motor Co. Sunita Williams has become a name to be reckoned with by travelling in space. In India as well as many other countries, women are ruling financial institutions. Our own Naina Lal Kidwai, Chanda Kochar, Lalita Gupte and many others are examples. Kiran Bedi was appointed the Director-General of the Directorate of Police Research & Development.


Barkha: More punch to news


Kiran Bedi: From policing to social work
In the media, a huge difference has been achieved by the advent of women heads of channels, women media-persons like Barkha Dutt and Sagarika Ghose and women heads of magazines and newspapers. Women film-makers and script-writers have brought a breath of fresh air in the entertainment industry. This year, Bollywood has proved that a woman director-choreographer—and that too, a pregnant one—can create a film that beats even Hollywood films in the money stakes. Farah Khan, director of Om Shanti Om, has proved that she can fetch unprecedented profits for a film written and directed by a woman.
The year 2007 has been good and 2008 will be even better, say Indian women.