Celebratory fare
Flavours of festivity
Every family has a special dish that is cooked to mark special moments. Pushpesh Pant
on festive food
There is no greater joy than sharing good food with family and friends and even with rank strangers at times. And it goes without saying that life is full of events to celebrate something or the other – occasions when the food has to be extraordinary. Be it a childbirth, engagement or marriage, house warming or promotion, an award or anything else – khane wale ko badhia khane ka bahana chahia.
From time immemorial the calendar is marked with festivals, harvesting or religious rituals that are associated with special seasonal and regional delicacies. There are festivals that transcend cultural barriers like celebration of the New Year. What is common to all celebratory meals is that the recipes emphasise richness—in all its manifestations. The food prepared is rich in terms of fat used and is adorned with expensive garnishes, silver leaf, dried foods and nuts and, of course, presented in a manner that is a delight to watch. The guests and diners at home are left in no doubt that whoever has prepared the food has walked the extra mile and exerted a lot to prepare a memorable meal.
In this day and age when the pressures on time are many, it is often not easy to cook and serve an exciting celebratory meal at home. Most of us take the short cut of ordering from a takeaway. Seldom is the meal value for money or enjoyable. We firmly believe that the festive season is the time to dig up dog-eared, hand- written recipe books, handed down from mother to daughter and to serve often-remembered but rarely cooked family favourites. Each household has at least one rice specialty like tehri khaas or murg korma cooked home style that is part of the celebratory repertoire.
Believe you us, no ingredient can match the incorporation of TLC to lift a simple dish to the realm of magical delicacy. We share a few of these this time that may make life much easier and exciting for you and your guests during this festive season.
Ananas Ka Muzaafar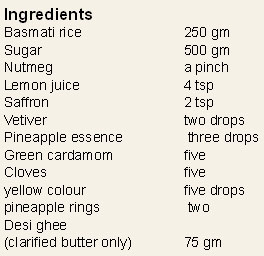 Method
The rice: Pick, wash in running water and soak for two hours. Drain.
The saffron: Pound with a pestle to break the flakes.
The syrup: Boil sugar with 150 ml water, add nutmeg and lemon juice, stir until the syrup becomes thick. Stir in saffron, vetiver and pineapple essence.
The cardamom: Peel, discard the skin and pound the seeds with a pestle.
The pineapple rings: Cut into ½-inch pieces.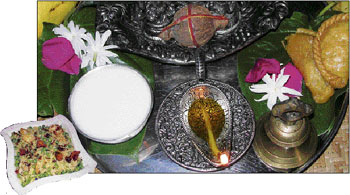 Top: Prasad is food for the gods and for Indians mealtime rituals have a sanctity
Left: Every family cooks Tehri Khaas in its own unique way
The oven: Pre-heat to 250ºF.
Heat water (approx 1.2 litres) in a handi, add the drained rice, cardamom, cloves and yellow color, boil until the rice is just cooked. Drain.
Heat the syrup over low heat, add the cooked rice, mix well and remove when the syrup starts boiling. Add the pineapple pieces and mix well.
Finishing
Transfer the rice and syrup mixture to an earthenware handi(or a shallow casserole), cover with a lid, seal with atta-dough (or silver foil) and put on dum on a tawa over low heat (or in the pre-heated oven) for an hour.


Jhinga Nayab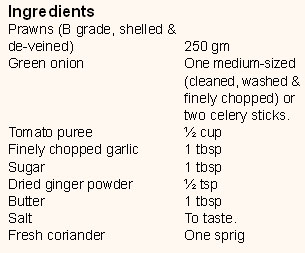 Method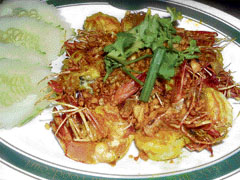 Heat butter in a thick-bottomed pan and quickly fry the chopped garlic till it is brown. Remove and reserve. Now add prawns and stir fry on medium flame till these begin to change colour, remove and place on absorbent kitchen towels.

In the same pan add chopped onions but not the greens and when these become translucent, add the tomato puree, ginger powder, sugar and salt. Stir fry for about one minute then add the lightly fried prawns. Reduce heat and simmer for two minutes. Garnish with fried garlic, onion greens or celery. (You may retain the shells if the diners are comfortable and don't mind using their fingers. The dish looks more exotic this way.