Art Scene '07
Few splashes of colour in a dull picture
The Indian art biggies continued to fetch a good price for their work, but for the regular artist the canvas remains far from bright, says Ravi Bhatia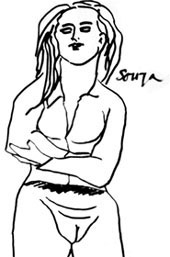 A Standing Girl (Pen and Ink on Paper) by FN Souza, a founder member of the Progressive Artists' Group. There's a savage intensity in most of his works where man is presented in a harsh light
The year 2007 has in the true sense been a mixed canvas for the art scene. While creations of Indian artists have continued to fetch huge amounts in international art auctions, the average Indian artist continues to struggle to eke out a living waiting for that corporate sponsorship or industrial backing that would pivot him to fame and affluence.
In the beginning of the year, it seemed that art had finally made it with industrialists and corporations jumping into the fray commissioning artists and promising to buy their final products for huge sums. They claimed that this was good business and wise investment as art was bound to appreciate. They referred to the fabulous amounts that some of the paintings of Indian artists fetched at international auctions in London and New York. But the euphoria was shortlived.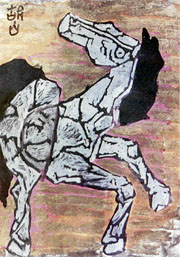 The Chinese Horse (Acrylic on Paper) by the celebrated MF Husain, who is unfortunately now in self-imposed exile

It was apparent that not all would be able to match the market value of eminent Indian artists like Raja Ravi Verma, Ganesh Pyne, MF Husain, Jogen Chowdhury, FN Souza, Jamini Roy and Manjit Bawa, who, according to critics, still have a universal appeal.
The common lament of any Indian artist is that despite the buying capacity of an average Indian, there are very few takers for paintings and drawings. There is little appreciation, all they want is something to hang on the walls of the living room and most would prefer big names to flaunt their wealth. It was tough for a beginner or an average artist. As a result, corporate and business sponsorship was a welcome development.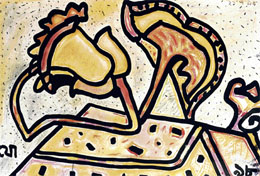 The Flower (Ink and Watercolour on Paper) by Jogen Chowdhury, a highly self-absorbed painter who seeks out nature to bring rhythm to his art

The Income Tax Department which was watching the scene as avidly as any connoisseur, suddenly swung into action. Raids and surveys were conducted on the various galleries that had mushroomed in the country, forcing many to shut their portals for good. This left the poor artist in the lurch so to speak. The balloon had burst.
The IT officials claimed that most of the galleries which had suddenly closed down were being used by unscrupulous businessmen to convert their black money into white by offering huge sums for even mediocre paintings and then channeling them back into the market through individual sales. There was no way that the authorities were going to remain silent spectators.
This development came as a blow to an average, aspiring artist who dreamed of making it big because of the so-called boom in the art market. He had to revert to the traditional old art galleries, most of them state sponsored, for exhibiting his works. There was a virtual race among artists to reserve space for their creations in the few galleries that had managed to survive.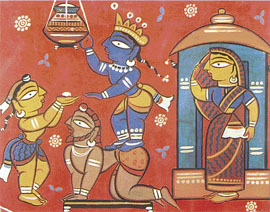 Little Krishna (Gauche on Paper) by Jamini Roy, an established artist who draws on indigenous influences and has a strong sense of line, design and colour

The National Capital Territory of Delhi had witnessed a spurt in the growth of galleries in the last couple of years, but because of the sealing drive the art scene turned dismal here. Many galleries had opened in residential areas taking advantage of lax civic attention. The rents were less and the pickings were great. The Supreme Court order sealing commercial activity in residential colonies, however, proved a "dampner" and the exuberance was shortlived. The artist once again was left to fend for himself.
It was now truly a case of art for arts sake only. There were few buyers. As a result, many an artist was forced to keep his creativity in abeyance and take on more paying activities like teaching and commercial designing. After all, MF Husain too started his career as a commercial painter.
But amidst this bleak scenario, there have been some splashes of colour with some of the old, established galleries offering to exhibit the creations of aspiring artists and giving them the logistic support required to project their creativity. Some of the NGOs too are playing a pivotal role in encouraging creativity by organising group exhibitions of lesser-known artists. Even the famous Dhoomimal Gallery, which incidentally has managed to survive in the ephemeral art world for the last 75 years, has been offering precious exhibition space to budding artists.
In several cities, artists have come together to form societies so that they can collectively showcase their talent and perhaps in the process take the first step towards fame and fortune.