A patchy show
Hindi cinema rarely rose to great heights in 2007, though there were some box-office successes like Chak De! India and Jab We Met, writes Vikramdeep Johal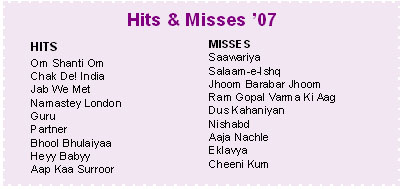 Bad first half, good second half, above average overall — that was how 2007 turned out to be for Bollywood. After the boom of 2006, which delivered three blockbusters — Lage Raho Munnabhai, Krrish and Dhoom:2 — this year produced merely one, Farah Khan's Om Shanti Om.
Mani Ratnam's Guru and Vipul Shah's Namastey London were the saving grace of the January-June period, which saw several big-banner movies crash at the box-office. It was Prashant Chadha's Aap Kaa Surroor, released in late June, which unexpectedly turned the tide, much to the relief of a much-worried industry.
During the next six months, the major successes were David Dhawan's Partner, Priyadarshan's Bhool Bhulaiyaa, Sajid Khan's Heyy Babyy, Shimit Amin's Chak De! India, Imtiaz Ali's Jab We Met and above all, OSO.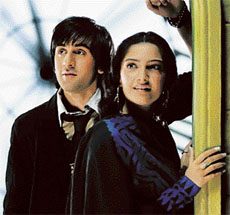 Saawariya launched Ranbir Kapoor and Sonam Kapoor
Interestingly, it was the overseas market that did a bit of damage control for some films or boosted the collections of others.
The year's sleeper hit was Sanjay Bellary's shoestringer Bheja Fry (a remake of the French farce The Dinner Game), which took the multiplex circuit by storm in metros and mini-metros. Another low-budget film, Bhavna Talwar's Dharm, won well-deserved critical acclaim in India and abroad.
Very few movies united the critics, the classes and the masses, notably Guru, Chak De! and Jab We Met. Guru was a Citizen Kane-style epic having "coincidental" parallels with the life of Dhirubhai Ambani. Chak De! was a slick hockey flick, the first of its kind in Hindi cinema. Jab We Met came as a breath of fresh air, even though it owed much to entertainers like Dil Hai Ki Manta Nahin and Dilwale Dulhaniya Le Jayenge.
Its super success notwithstanding, OSO was an overblown, self-indulgent extravaganza that rode on Shahrukh Khan's star power. Vidhu Vinod Chopra's Eklavya and Sanjay Leela Bhansali's Saawariya had class written all over them, but that wasn't enough to sweep audiences off their feet.
Mega duds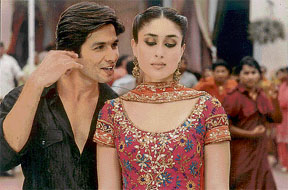 Shahid and Kareena's sparkling romance in Jab We Met coincided with a real-life split
The Worst Major Release of the Year Award ought to be shared by Ram Gopal Varma Ki Aag and Shaad Ali's Jhoom Barabar Jhoom, with Nikhil Advani's Salaam-e-Ishq being the runner-up. Aag was meant to be a tribute to Sholay, but it looked more like its parody. Even RGV had to admit that remaking the 1975 classic was a costly blunder. Shaad Ali, who directed the "funtastic" Bunty aur Babli (2005), abysmally failed to do an encore. JBJ was a total misfire — no wonder it was outrightly rejected.
Salaam-e-Ishq did not do justice to its source of inspiration, the wonderful British romantic comedy Love Actually. The director tied himself in knots while trying to interweave six love stories. The double-digit-starrer Dus Kahaniyan distributed the workload among six directors, but the results were no less unsatisfactory as most of the tales had nothing in common.
Sporting flavour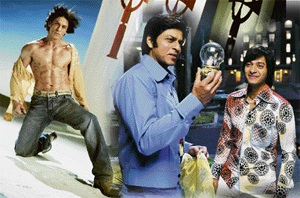 Om Shanti Om rode on Shahrukh Khan's star power to become a blockbuster.
A year of major sporting achievements for the country befittingly saw the release of several films about players and coaches. The pick of the lot was Chak De!, which depicted hockey as a sport no less glamorous and exciting than the national obsession — cricket. It was fun to watch SRK turn a motley bunch of girls into world champions. The film's title virtually became a national slogan and a mantra for sporting success, and the title song by Sukhwinder was a huge hit in India and abroad.
In Anil Sharma's Apne, the Deols — Dharmendra, Sunny and Bobby — put on the boxing gloves and took to the ring. Saif Ali Khan played a motor racing driver in Siddharth Anand's Ta Ra Rum Pum, while Vivek Agnihotri's Dhan Dhana Dhan Goal cast John Abraham as a footballer. Of these three, Apne was the most successful, though it lacked CDI's brilliance.
Interestingly, the cricket movies — Ken Ghosh's Chain Kulii Ki Main Kulii and Milan Luthria's Hattrick — were clean-bowled at the box-office.
SRK on top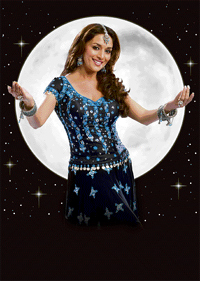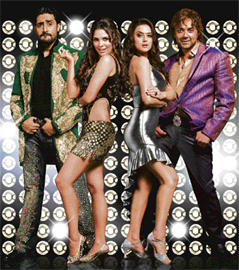 Multi-starrer Jhoom Barabar Jhoom sank without a trace at the box-office
He gave an atypically understated performance in Chak De! India and a typically over-the-top one in Om Shanti Om — and moviegoers loved him in both roles! 2007 undoubtedly belonged to SRK, who featured in two of the year's biggest grossers. His stubble in Chak De! and the six-pack in OSO were lapped up by his legion of fans.
Big B shockingly failed to give a single hit. He was delightful as a pony-tailed "culinary artist" in R. Balki's Cheeni Kum and at his intense best as an ultra-loyal royal guard in Eklavya. However, it was embarrassing to watch him as Gabbar (RGV Ki Aag) and in that ridiculous Jack Sparrow get-up (JBJ). And what, pray, was he doing in Nishabd?
After a long time, Dharmendra made his presence felt on the big screen, thanks to meaty roles in Apne and Johnny Gaddaar.
Abhishek Bachchan got the role of his career so far in Guru, and he played it with maturity. On the flip side, his performances in JBJ and Laaga Chunari Main Daag were eminently forgettable.
Akhshay Kumar demonstrated his crowd-pulling mettle with Namastey London, Heyy Babyy and Bhool Bhulaiyaa, though he did nothing more than repeat himself.
Among the character actors, Pankaj Kapoor, who rarely gets the parts he deserves, gave soul-stirring performances in Dharm and Blue Umbrella.
On the distaff side, mother-of-two Madhuri Dixit made a welcome comeback in Anil Mehta's Aaja Nachle (but even her presence couldn't save the film). Showing glimpses of her brilliance, the dhak-dhak beauty indicated that she was capable of outshining today's top heroines like Aishwarya Rai Bachchan, Kareena Kapoor and Rani Mukherji.
Though Abhi-Aish was the "pair of the year" off-screen, it was the Shahid-Kareena chemistry in Jab We Met that wowed audiences. What an irony that their reel romance coincided with a real split!
Fresh stock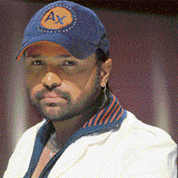 Himesh Reshamiyya gave a hit in his debut film, Aap Kaa Surroor
"Cap man" Himesh Reshamiyya made his big-screen debut with a bang in Aap Kaa Surroor. His acting wasn't even half as good as his singing, but then, as they say, nothing succeeds like success. If all goes well for him, the man with the famous twang might become the most popular actor-singer since Kishore Kumar.
Saawariya launched Ranbir Kapoor and Sonam Kapoor, with the former clearly overshadowing the latter. Rishi's son became a "teen idol" and "gay icon" even before the film was released, and he did live up to the great expectations. In contrast, Anil Kapoor's daughter didn't look like star material.
Another newcomer to watch out for is the dashing Neil Mukesh. The son of playback singer Nitin Mukesh and grandson of the legendary Mukesh was a treat to watch in the stylish crime thriller Johnny Gaddaar directed by Sriram Raghavan.
The lissome Deepika Padukone was poise personified in OSO, though she didn't appear comfortable doing a double role in her very first film.
New direction
Aamir Khan has the reputation of being an actor who takes much interest in direction. At last, he officially took on the mantle in Taare Zameen Par. He didn't do a bad job at all while juggling acting, production and direction.
TV star Rohit Roy had the privilege of working with stalwarts Shabana Azmi and Naseeruddin Shah on his directorial debut, Rice Plate, which was among the best stories in Dus Kahaniyan. Chatterbox anchor Sajid Khan went behind the camera for the whacky comedy Heyy Babyy and hit the bullseye.
Eklavya v Dharm
Guru, Eklavya, Dharm and Chak De! were among the contenders for India's official entry to the Oscars. Eklavya's selection kicked up a controversy as Dharm's makers moved court alleging that the jury included members who were close to Vidhu Vinod Chopra. A final decision on the matter is yet to be taken, and it's even likely that India may not send any entry at all. Bias or no bias, the incident has undoubtedly shown the Indian film industry in a poor light.
The unsavoury row was symptomatic of a chequered year that won't exactly go down in the history of Hindi cinema as an annus memorabilis. Hopefully, 2008, which has in store the much-awaited Hrithik-Aish starrer Jodhaa-Akbar, would be better.